Future Treasures: Old Venus, edited by George R.R. Martin and Gardner Dozois
Future Treasures: Old Venus, edited by George R.R. Martin and Gardner Dozois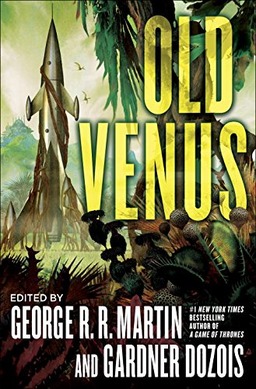 A while back, I was lamenting the disappearance of the modern SF anthology, and commenting that very few editors (or publishers, for that matter) have been successful at individual anthologies — let alone the anthology series, like the old Orbit and New Dimensions.
In so saying, I was overlooking the team of George R.R. Martin and Gardner Dozois, who have produced a loose series of top-selling SF and fantasy anthologies over the last few years — including the massive heroic fantasy volume Warriors (2010), the star-crossed love story collection Songs of Love and Death (2010), the massive Jack Vance tribute Songs of the Dying Earth (2010), the urban fantasy-focused Down These Strange Streets (2011), the even massive-er 800-page Dangerous Women (2013), and the just-released Rogues (2014).
My personal favorite was Old Mars, a tribute to "the Golden Age of Science Fiction, an era filled with tales of interplanetary colonization and derring-do" — which, if you've read even a handful of posts here at Black Gate, you'll understand is the kind of thing that makes me very happy. When I blogged about it in January, Gardner sent me this intriguing message:
Glad you enjoyed it… If you liked this one, keep an eye out for Old Venus from the same publisher; same kind of thing, although I think it's even stronger than Old Mars. Pub date is sometime in 2015.
I was delighted to hear it. Now Bantam has released the cover, and it looks gorgeous — and makes a terrific companion piece to the Old Mars cover. These will look very handsome indeed, back-to-back on my bookshelf.
Old Venus will be published by Bantam Books on March 3, 2015. It is 608 pages, priced at $30 in hardcover and $11.99 for the digital version. No news on who the contributors are — when we learn more, so will you.