Vintage Treasures: Tower of Dreams by Jamil Nasir
Vintage Treasures: Tower of Dreams by Jamil Nasir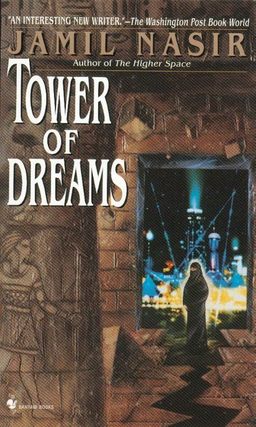 Earlier this year, I was delighted to write a new New Treasures piece on the latest novel by Jamil Nasir. Tunnel Out of Death, as I noted at the time, had "one of the most original plot synopses I've read in the last year."
That sent me on the hunt for his earlier novels, and over the last six months I've managed to track down most of them — including the highly regarded Tower of Dreams, which Jack Dann called "A powerful hallucinatory nightmare obsession from a writer who loves words and can turn them into the vital stuff of experience."
In Advertising, Image is Everything.

Blaine Ramsey has an unusual occupation. He travels to foreign countries and lives like a native. He drinks in the culture with his mind, body, and soul. And he does it all in the name of American capitalism. For Blaine is an Image digger, one of an elite few blessed with the power to "dream" authentic images from the deep unconscious of foreign lands that are turned into alluring, computer-animated packages used by advertisers to sell their products.

But in a dusty Middle Eastern villa, something goes terribly wrong. Blaine is haunted by the recurring Image of a young Arab beauty suffering a brutal attack. For Blaine, her Image becomes the seductive source of romantic obsession–and a nightmare from which he cannot escape. And as Blaine is about to discover, her appearance in his dreams foretells tragedy — a disaster the likes of which the world has never seen….
Tower of Dreams was published in January 1999 by Bantam Spectra Books. It is 231 pages, originally priced at $5.99. That version is now out of print, but in 2009 the author self-published a trade paperback edition through iUniverse; that one is still in print. There is no digital edition.