The Public Life of Sherlock Holmes: The International Exhibition of SH
The Public Life of Sherlock Holmes: The International Exhibition of SH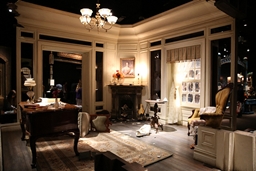 The International Exhibition of Sherlock Holmes began its run last year in Portland and has set up shop here in Columbus, OH, from February through September of 2014. It will be moving on to St. Louis, Dallas, Santa Ana, and Denver before the final stop in Seattle in October of 2016.
The Exhibition capitalizes on the massive popularity of the world's first private consulting detective. Created by Sir Arthur Conan Doyle in 1886, Holmes has never been more popular worldwide than he is over one-hundred and twenty years later.
It is a traveling Holmes museum and includes a mystery that you attempt to solve by examining clues and conducting tests. And the various items, which are all enclosed in glass cases, are absolutely worth seeing.
The show is hosted on the second floor at COSI: the Center of Science and Industry. After being instructed that you cannot take food or drink in, take pictures or use your cell phone inside, you are given your Notebook for solving the mystery.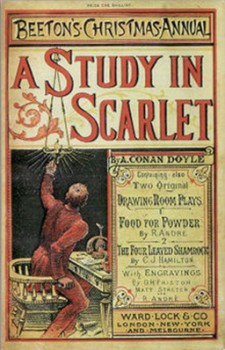 Upon entering, there are some Victorian London photos and a short video from Richard Doyle about Holmes.
The first room contains some information on the times and a video of an interview that Doyle gave a few years before his death. There is a nice tribute to Joseph Bell, including a letter he received from Doyle, telling him that he was the main influence for Sherlock Holmes.
There's also a gown worn by Bell while teaching at Edinburgh.
What really grabbed my eye was the collection of vintage documents and books at the far end of the room.
Among the goodies were first American editions of The Adventures and The Memoirs, both over one-hundred and twenty years old.
Even cooler were first British printings of both from George Newnes: Newnes was the publisher of The Strand Magazine. And of course, there's an original Beeton's Christmas Annual from 1887, containing the first Holmes story, A Study in Scarlet.
Every Holmes fan would like to see an original first edition copy of The Hound of the Baskervilles. They also had a few pages of the original manuscript, handwritten by Doyle.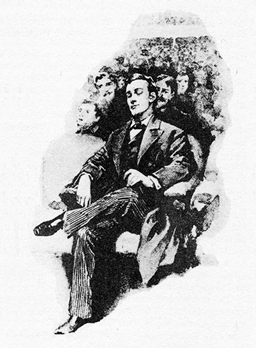 No cheap facsimiles here, folks! Next to an original Strand Magazine, from 1893, featuring "The Greek Interpreter," was a Harper's Weekly from the same year with the first American printing of that story.
As someone who has written about the illustrators of the Canon, I was very pleased to see an original Sidney Paget drawing from "The Red Headed League." There were also a few letters written by Doyle, who had very neat, compact handwriting.
The next room, which the kids loved, sort of puts you "in the mood" for solving the case. There are six different exhibits where you can get a stamp for your notebook. They give information on Victorian Era Botany, Cosmetics, Ballistics, Scotland Yard, Optics & Lenses, and the Telegraph. You even make a rubbing at the newspaper kiosk to get a secret message. Sherlockians will recognize it.
Next up is a reproduction of the famous sitting room at 221B Baker Street. For you fans of "hidden object" games, this is a real one. Readers of the stories will immediately know where to find the Persian Slipper and will recognize the Whaling Harpoon, Mr. Baker's Hat, and the V.R. shot into the wall.
I treated my wife and son to a stream of Cliff Claven-esque factoids, including what story certain items were from. They didn't tell me, but I'm sure it enhanced their experience…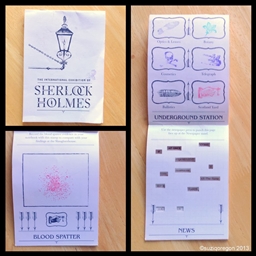 In your Notebook, a police report tells you that the suspect seems to have, in a temporary fit of insanity after burning a seedpod, shot and killed his wife and daughter, dragging the latter's body into the Thames.
After leaving the sitting room, you move into several different "rooms" (stations, really) with some different aspect of the crime. You figure out a bullet's trajectory, examine blood spatters (fired out of machines then wiped clean automatically), look at footprints and drag marks in the sand: you get to play detective.
There are police reports and dismissive notes from Sherlock Holmes. At each station, you get a stamp for your notebook (I'm telling you, the kids love going from stamp machine to machine. My son didn't care at all about solving the case: he just wanted more stamps).
There are things to do at the various stations, such as pushing a wheel around that makes lots of footprints in the sand. It's an interactive crime solving experience. At each of the four main stations, you form a conclusion and make a punch mark in your notebook. The different conclusions make punch out rectangles at different places on your page.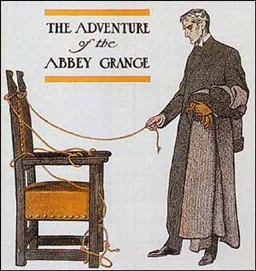 When you've got all four punches, you put that page over a newspaper and get a secret message. That leads you to a display that includes a message from Sherlock Holmes, explaining the case. Everybody finds out the solution; you see if it matches up with your deductions.
I've been to the Exhibition twice (the first time I just walked through to see what was there) and there have been lots of people having fun solving the mystery. It is quite popular.
There are more items on display in the last room after you finish your sleuthing. I would have visited just to see the original Frederic Dorr Steele stuff.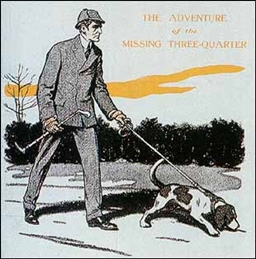 The first room had an illustration from "The Six Napoleons" as well as one of the drawings he did to promote Basil Rathbone's The Hound of the Baskervilles in 1939.
In this second area, I got to look at two of the Colliers Magazines with those marvelous covers. These were for "The Missing Three-Quarter" and "The Abbey Grange."
Other illustrations included ones from "Black Peter," The Hound of the Baskervilles, "Charles Augustus Milverton" and "The Adventure of Wisteria Lodge." There were even more!
Another special treat was the original cover artwork for 1946's Profile by Gaslight, by Edgar Smith.
An original Lippincott's Magazine with The Sign of the Four, an 1890 bootleg of A Study in Scarlet: for the dedicated Sherlockian, the items are amazing.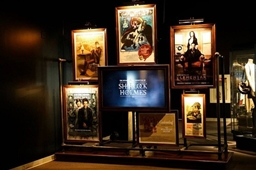 This last exhibit area also had quite a bit of movie items, including a poster from Murder By Decree (which I just wrote about last week), stills from Young Sherlock Holmes, a full-size Basil Rathbone poster and more.
For the more recent fan, among the props were Jude Law's swordstick, Robert Downey Jr.'s pipes, and a napkin from Irene Adler. There were several other items from the two Downey movies.
Elementary was prominently represented. Items included costumes worn by Johnny Lee Miller and Lucy Liu and the dummy used for Miller's single stick practice. I did not see any actual Sherlock paraphernalia (well, except for in the gift shop).
Finally, there's a gift shop with Sherlock-themed t-shirts, candy, hats, videos (of Jeremy Brett), books: nothing too extensive. Though just as you head out of the Exhibit, there's the casket used for Lord Blackwood in the first Downey movie. Not for sale, however!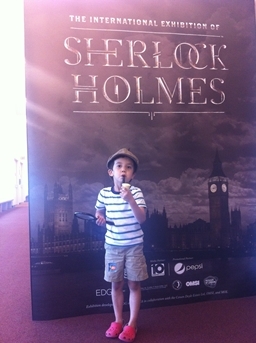 Absolutely no photography is allowed inside, though you can get your picture taken for $15 in front of a green screen with various backgrounds dropped in.
All in all, this Exhibit has something for all levels of Holmes fans. Devising a "you solve it" scenario out of one of Watson's untold tales (Isadora Persano and the worm unknown to science) was a nice touch. If you take your time and read the clues (something my almost-seven year-old son had no interest in doing), I think you can solve the case.
And as I mentioned, the Sherlockian items are first class. I believe it's about $10 on top of regular COSI admission, but it's worth it. Come to Columbus: the game is afoot!
---
Bob Byrne founded www.SolarPons.com, the only website dedicated to the 'Sherlock Holmes of Praed Street' and blogs about Holmes and other mystery matters at Almost Holmes.