The Original Bug-Eyed Monster: Astounding Stories, May 1931
The Original Bug-Eyed Monster: Astounding Stories, May 1931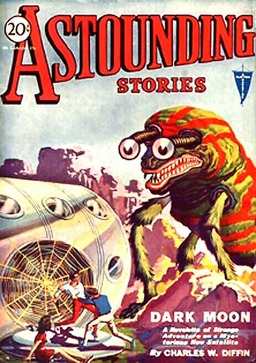 Pulps are my weakness. I discovered them when I was just 12 years old, in Jacques Sadoul's marvelous art book 2000 A.D. Illustrations From the Golden Age of Science Fiction Pulps (which I discussed back in May). That book sparked a lifetime interest in pulp magazines, where American science fiction was born.
Of course, I was too young to have purchased or read any pulp magazines myself in 1976. Pulps died out in the 1950s, killed off by wartime paper shortages and changing economics. So I've relied on the collector's market to supply me with magazines — an expensive proposition, especially if you're a completist.
Over the years, I've gotten more discriminating in my collecting. I dearly love Planet Stories, Weird Tales, Amazing Stories, Thrilling Wonder, Unknown, Air Wonder Stories, and many other pulps. But my favorite is Astounding Stories (later Astounding Science Fiction), the magazine which — under legendary editor John W. Campbell — ushered in the so-called Golden Age of Science Fiction, discovering Robert A. Heinlein, A.E. van Vogt, Isaac Asimov, Theodore Sturgeon, and many, many others. Campbell became editor with the October 1937 issue and he quickly transformed the entire field. 
Curiously, the most expensive and in-demand issues of Astounding aren't from Campbell's reign, however. They're from its first three years, 1930-1933, the period known as the Clayton Astounding, when it was owned by Clayton Magazines. That's their symbol, the little blue pennant, in the top right of the cover at left.
Very little fiction from the Clayton period is remembered today — and if you've never heard of the Clayton Astounding, you're not missing much. The magazine's early editors, like most of the American public, didn't really understand science fiction and mostly filled the magazine with thinly disguised westerns in space and early space operas. But the covers… ah. They're a very different story.
All the covers of the Clayton Astounding were painted by one man: H. W. Wesso. Like Frank R. Paul, Wesso couldn't paint a realistic human figure to save his life. But foreboding alien landscapes, rocket ships, and giant monsters? Wesso was your guy.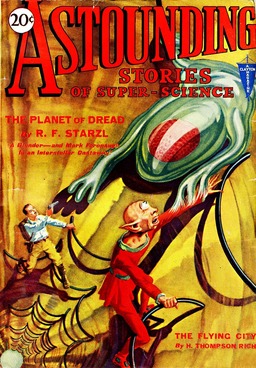 When I saw my first Wesso covers in 2000 A.D. — including the August 1930 issue, right, with that strange slithery alien coming upon the explorers in the tunnel, and the May 1932 issue, above, with a gigantic space monster moving menacingly towards three humans, one of whom is caught in a web — I was instantly captivated. (Click on the images for bigger versions).
These were the stories I wanted to read when I was twelve, dang it. Science fiction with weird alien planets, daring explorers, and monsters. In fact, forget all that other stuff, and just give me the monsters.
After 38 years of collecting, I have very nearly a complete collection of Astounding and the magazine it changed into, Analog Science Fiction & Fact. Over eight decades of science fiction, through many ups and downs. To know Astounding is, in a very real way, to know  the history of science fiction.
One that escaped me until recently was the May 1931 issue. There's nothing special about the contents, and I have no doubt that the reason it's much in demand is Wesso's delightful cover.
By the 1950s, more serious magazines like Galaxy were attracting fresh readers, partly by deriding the reputation of early SF, particularly the Bat Durston space western and the "bug-eyed monsters" of early pulp SF. Pretty soon "bug-eyed monster" became a catch-all phrase for the mindless, ugly aliens who inhabited the pages of moldering pulp magazines, attempting to devour men and steal our women.
I can't prove it, but Wesso's monster on the cover of the May 1931 Astounding must surely be the mother of all Bug-Eyed Monsters, perhaps the very first. It's certainly the one I think of whenever I hear the phrase. If it hadn't been for this cover, I don't think the phrase "bug-eyed monster" would have entered our lexicon at all.
And I don't think it's ugly at all. You're beautiful, you giant alien beast, and don't let anyone tell you different. I hope you eat that reckless space explorer, and his little blue buddy too.
Hundreds of pulp collectors clearly agree with me, since it took me a long time to track down a copy of this issue. But I finally managed it, buying a nice copy on eBay last week for $11.50.
Here's the complete Table of Contents, with links to the stories at Project Gutenberg.
Dark Moon by Charles W. Diffin
Mysterious, Dark, Out of the Unknown Deep Comes a New Satellite to Lure Three Courageous Earthlings on to Strange Adventure. (A Complete Novelette.)

When Caverns Yawned by Captain S. P. Meek
Only Dr. Bird's Super-Scientific Sleuthing Stands in the Way of Ivan Sarnoff's Latest Attempt at Wholesale Destruction.

The Exile of Time, by Ray Cummings
Young Lovers of Three Eras Are Swept down the Torrent of the Sinister Cripple Tugh's Frightful Vengeance. (Part Two of a Four-Part Novel.)

When the Moon Turned Green by Hal K. Wells
Outside His Laboratory Bruce Dixon Finds a World of Living Dead Men—and Above, in the Sky, Shines a Weird Green Moon.

The Death-Cloud by Nat Schachner and Arthur Leo Zagat
The Epic Exploit of One Who Worked in the Dark and Alone, Behind the Enemy Lines, in the Great Last War.

The Readers' Corner by All of Us
A Meeting Place for Readers of Astounding Stories.
Astounding Stories, May 1931 was edited by Harry Bates and published by Clayton Magazines. It is 144 pages, originally priced at 20 cents. The cover and interior art is by H.W. Wesso. Read the complete issue (with Wesso's interior artwork) at Project Gutenberg.
See all of our recent pulp articles here.