Love in War and Realms Beyond Imagining: The Fish, the Fighters and the Song Girl by Janet Morris and Chris Morris
Love in War and Realms Beyond Imagining: The Fish, the Fighters and the Song Girl by Janet Morris and Chris Morris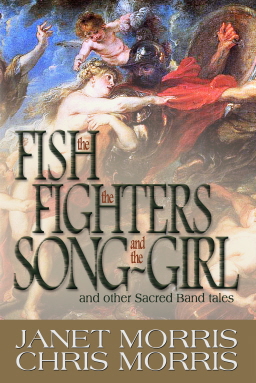 "Your commander reaches for yonder stars and gods do eye him. And there are more Fates in the wide worlds of men than those whom he has aided." – from The Fish, the Fighters and the Song Girl.
The Fish, the Fighters and the Song Girl
Janet Morris and Chris Morris
Revised Author's Cut, published by Perseid Press (386 pages, May 24, 2012, $24.95)
Cover art: Peter Paul Rubens, "The Consequences of War" (detail), 1637-1638
The team of Janet Morris and Chris Morris once again grace us with another excellent collection of Homeric Heroic Fantasy, featuring Tempus, Niko and their Sacred Band of Stepsons. This compilation is comprised of both new stories and earlier tales, herein revised from the original Thieves' World® series, stories such as "What Women Do Best," "Power Play," and "Sanctuary is for Lovers." Brand-new tales, written especially for this book, include "Shelter from the Storm," "Lemnian Deed," "Ravener, Where Art Thou?" and the title story.
All the magic, action, adventure, humor and human drama I've come to expect from Janet and Chris Morris are here in spades, and there are enough revelations and plot twists along the way to keep you on your toes.
This collection takes place after the Morris' masterpiece, The Sacred Band, and gives us more of the history of the Sacred Band as Tempus takes his Stepsons and Thebans north, a world away, into unexplored regions and a mythic country. Though they are courageous, these fighters, they are no strangers to fear. Though they are warriors, hard and tough, they are not immune to love and compassion, to decency and common humanity.
And though the gods at times play their part, there is never a chance that Deus ex machina will overwhelm these wonderful characters and seize control of the stories. In fact, at times it seems that the gods are really no match for the human and mortal characters. As in Greek mythology, which is the heart and soul of all the tales of the Sacred Band, the gods are as weak, as fallible, as jealous, and as imperfect as mortals – and sometimes even more so.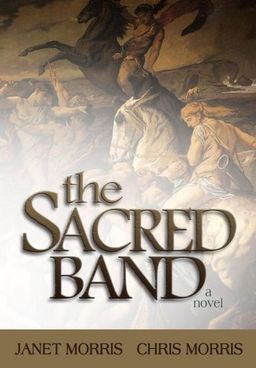 The Fish, the Fighters and the Song Girl is a highly intelligent and extremely complex collection of tales that reads very much like a novel, and is built on a large and strong cast of characters who live and breathe, sweat and bleed. We meet new characters and revisit old, familiar ones.
And while we travel through unknown territory with Tempus, Niko and the Sacred Band, most of these stories are centered in good old Sanctuary®, where war is brewing between the empire of Ranke and the Beysibs of Harka Bey over control of that infamous town of rogues and thieves, whores and priests, mages and mercenaries.
Tempus and the Stepsons, the 3rd Commandos under Sync, and the Rankan Empire all want to rid Sanctuary of the Beysibs, install an interim ruler, and make Sanctuary an independent state. So that's the background on what's going on and the hub around which these stories revolve. Now, let me tell you a little about the players involved.
Once again we encounter Molin Torchholder, Vashanka the Storm God's priest; he's always trying to curb the actions of the Sacred Band, and this time out strikes a bargain with Tempus for his own secret agenda.
We learn more about the Stepson Straton and his love affair with Ischade the necromant; they set out to rescue Strat's partner Sync, who's been totally enthralled and held captive by Roxane, the Nisibisi witch who played such a large role in The Sacred Band and the Beyond Sanctuary Trilogy; her demon-familiar, Snapper Jo, now tends bar at the Vulgar Unicorn® and dreams of being human.
Herein we get tangled up with Zip, the Death Squad guerilla leader who introduced Sync to Roxane; he also gets romantically involved with Kama, daughter of Tempus, and becomes a player in the war for Sanctuary's independence. Randal, the shape-shifting, jug-eared mage is here, too, and he's still allergic to animal forms, especially when he changes into one.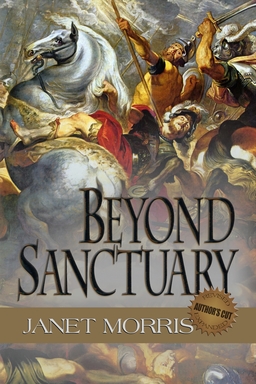 We also meet Cassander the Healer, a gifted horse doctor who buys a live fish, a kite-ray that he needs to heal a young girl named Seriti. (Interesting thing about this fish: it's used to create a sort of "organic battery," which is then used for healing and purposes of interrogation. Cassander is like a heroic fantasy version of television's MacGyver.)
Niko, right-side companion to Tempus, has been immortalized and is now the avatar of Harmonia, the Theban goddess of Balance and Justice. He has his hands full taking care of two children: Arton, who at times can see the future, and Gyskouras (Kouras), who is the god Vashanka's son, through Tempus who actually fathered him. Jihan, Froth Daughter of the god Stormbringer, shows her maternal side when she and Niko defend the boys against deadly snakes sent by the witch Roxane to slay the lads.
As for Tempus the Sleepless One… as always, he has a full plate. When the two gods – Father Enlil (Lord Storm) and Vashanka the Pillager – vie for space and attention inside the head of an exhausted Tempus, Abarsis the Slaughter Priest, founder and now patron shade of the Sacred Band, comes to his aid and grants him one full night of rest. And Tempus will need that rest, for even more trials and tribulations await him.
Kama, his daughter, is on a covert mission and becomes apprenticed to Hakiem the storyteller, who claims to be neutral in this war, but seems to have all the right connections. New to the Stepsons is Gayle, a foul-mouthed mercenary who can build a string of profanity around a single word; he's been assigned to protect Kama, even from those who are trying to help her. But then Kama is framed – implicated in, and about to be indicted for, sedition and attempted murder.
Meanwhile, Molin Torchholder wants to save and marry her, and Jihan claims to be in love with young Randal, the Hazard Class and shape-shifting mage. So Tempus decides it's best to stop the marriage between Randal and Jihan; with Randal's permission he then sets out to woo Jihan away from the young mage for many reasons of his own, not to mention for the sake of romance. But first Tempus must send out teams of Stepsons to find the traitor who framed Kama for murder and sedition.
There is so much more to this anthology and to these stories, so many levels and layers, and the fun is in the reading and discovering how all the many threads tie together to create a tapestry of great storytelling. As in all Janet and Chris Morris's stories of Tempus and his Sacred Band, their writing is crisp and spot on. Their use of present-tense to grab the reader with a sense of immediacy and urgency is always well-played and never jarring. There is a balance and simplicity, a beauty and poignancy in their prose that is not overdone, not overplayed; they write with a deep insight into the human soul, with compassion and humanity. Here's a favorite passage of mine that takes place when the ghost of Abarsis the Slaughter Priest appears to take Niko's former partner to heaven:
She knew ghosts when she saw them; this one was a spirit of supernal power, a fabled strength, a glossy being of such beauty that tears came to Ischade's eyes when it sat down beside Niko, ruffling his hair with a fawn-colored hand.

"I am Abarsis," it smiled in introduction, and she saw the wizard blood there, ancient lineage, and love so strong it made her head hurt; she'd given up such options as this ghost thrived on, long ago.

"We need Janni's soul in heaven; it's earned its peace…"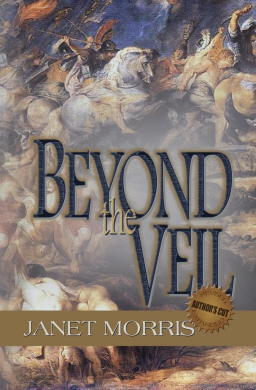 I like that passage a lot. For me it's writing that aims for the heart, as well as the brain. The philosophy, the credo of the Sacred Band will make you pause to think, but the way the characters are written, whether heroic, villainous or something in between, will make you feel.
One thing I'd like to mention is the women characters. In a review of one of the Sacred Band books, the reviewer brought up the point that the female characters are either witches or goddesses. Now, part of that statement rings true to history, true to a time when women controlled most religions, when women ruled as queens. But women play much more diverse roles in the Sacred Band mythos than witches, goddesses, priestesses, and even whores.First, there is Kama, a Sacred Band warrior as deadly, as proficient in the art of killing as any man. There are the two Lemnians, Breisis and Ditki, who once fought against the Band but have now joined with them.
And then there's Madame Bomba, a shrewd businesswoman who has her hands in everything, her eyes on everything, and her heart in the right place. These women are all empowered – they are forces to be reckoned with, such as: a witch that even the gods fear; a necromant who feels love and compassion; a goddess who wants to be human; veteran warriors who have not sacrificed femininity and gentility, tenderness and caring.
To talk more in depth about the plots of each story would be to give too much away. I think, I hope that what I have given you here is tease enough and has piqued your interest enough to have you seek out this volume and lose yourself in the wondrously magical and yet all too gritty and real world of the Sacred Band. And for those of you who haven't read my Black Gate and Amazon reviews of The Sacred Band, Beyond Sanctuary, Beyond the Veil, and Beyond Wizardwall, please check them out. I think you'll like the realms of wonder created by Janet and Chris Morris.
Life to you all, and everlasting glory.