New Treasures: Thornlost by Melanie Rawn
New Treasures: Thornlost by Melanie Rawn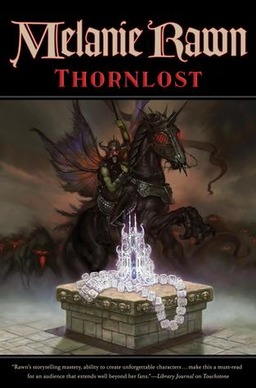 Melanie Rawn burst onto the fantasy scene in 1988 with her debut novel Dragon Prince, an instant success that became the first part of the Dragon Prince Trilogy (and, at nearly 600 pages, certainly helped usher in the 90s fat fantasy craze.)
How successful was Dragon Prince and its fat fantasy sequels? 26 years later, they're all still in print. Pretty darned amazing, especially when you consider that half the New Treasures I've covered in the past six months are out of print already.
Rawn followed her breakout success with the Dragon Star trilogy (1991-94) and the first two novels of the Exiles trilogy. And then… silence, for nearly ten years.
She eventually set the Exiles trilogy aside (the final volume, The Captal's Tower, is still listed as forthcoming on her website) and turned to urban fantasy with Spellbinder (2006), telling fans in a postscript to that book that she was battling clinical depression and needed to move on to other projects to speed her recovery. Fire Raiser arrived in 2009 and she returned to epic fantasy at last with The Diviner (2012).
She's been working tirelessly ever since, delivering the first two volumes of the Glass Thorns series: Touchstone (2012) and Elsewhens (2013). Now she returns to the rich fantasy world of those volumes with Thornlost, the third volume in the series.
Cayden is part Elf, part Fae, part human Wizard — and all rebel. His aristocratic mother would have him follow his father to the Royal Court, to make a high-society living off the scraps of kings. But Cade lives and breathes for the theater, and he's good, very good. He's a tregetour — a wizard who is both playwright and magicwielder. It is Cade's power that creates the magic, but a tregetour is useless without a glisker — an elf who can spin out the magic onto the stage, to enchant the audience. And Cade's glisker, Mieka, is something special too. So is their fettler, Rafe, who controls the magic and keeps them and the audience safe. And their masker, Jeska, who speaks all the lines, is every young girl's dream.

They are reaching for the highest reaches of society and power, but not the way Cade's mother thinks they should. They'll change their world, or die trying.
Thornlost was published by Tor Books on April 29. It is 384 pages, priced at $26.99 for the hardcover and $12.99 for the digital edition. The jacket art is by Matt Stawicki. The title of the fourth book in the series has not yet been announced.