New Treasures: Melanie Rawn's The Diviner
New Treasures: Melanie Rawn's The Diviner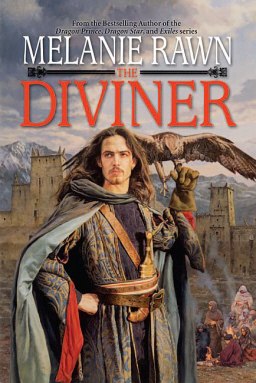 Melanie Rawn's first novel, 1988's Dragon Prince, was an immediate success. Twenty-four years later, it's still in print — on something like its 50th printing — and so are both of its sequels. If that's not an auspicious debut, I don't know what is.
Rawn certainly didn't rest with the Dragon Prince trilogy. From 1991-94, she published the Dragon Star trilogy; in 1996 the collaborative novel The Golden Key (with Kate Elliott and Jennifer Roberson); and 1994 and 1997 saw the release of the first two novels of the Exiles trilogy. Rawn practically had her own shelf on every bookstore in North America — nine fat fantasy novels, all still in print.
And then… nothing. Her last publication of the 90s was a short story in A Magic-Lover's Treasury of the Fantastic in 1998. The Captal's Tower, the final novel in the Exiles trilogy, has been listed as "forthcoming" since 1997.
She emerged from nearly a decade of silence in 2006, breaking away from epic fantasy with Spellbinder, a modern urban fantasy of the territorial disputes and sex lives of Manhattan witches. In a note in that book, Rawn spoke of battling clinical depression and the need to move on to other projects to help her recovery. The sequel Fire Raiser arrived in 2009.
Last year she returned to epic fantasy for the first time in nearly 15 years with The Diviner, a prequel to The Golden Key:
The only survivor of royal treachery that eliminates his entire family, Azzad al-Ma'aliq flees to the desert and dedicates himself to vengeance. With the help of the Shagara, a nomadic tribe of powerful magicians, he will finally be able to take his revenge — but at what cost?
The Diviner was released in paperback by DAW books on August 7th. It is 438 pages, and priced at $7.99 for both the digital and print versions.