An Age of Random Portents and Incoherent Miracles – Echoes of the Goddess by Darrell Schweitzer
An Age of Random Portents and Incoherent Miracles – Echoes of the Goddess by Darrell Schweitzer
The Goddess is dead. The Earth is very old. The fabric of time itself has worn thin. Who knows what might be glimpsed through it? — Opharastes, After Revelation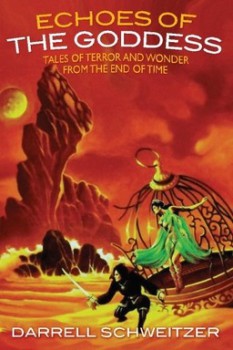 When the Goddess who reigned over Earth died her body shattered and the pieces, resonating with her power, rained down over the world. Wherever they settled they caused great changes in both the people and the land. In some places new realities were created. In others, images of the Goddess herself appeared and lingered on for years until the dawn of a new age and the emergence of a new deity.
Echoes of the Goddess: Tales of Terror and Wonder From the End of Time (2012) by Darrell Schweitzer is a collection of eleven stories written over the past thirty five years and set between the earliest days of the Goddess' death and the last days before the new age.
One of the best things to come out of reviewing books is that I've finally read a bunch of the authors that I somehow managed to overlook for years, despite their large catalogs and great reviews. Steve Brust and Andre Norton are two of those recent "discoveries" as is today's author, Darrell Schweitzer.
It's hard to fathom that I'd managed to read only two stories ("Those of the Air" in Cthulhu's Heirs and "The Castle of Kites and Crows" in Swords Against Darkness V) by a man who has written around three hundred of the things, several novels, and numerous works of non-fiction. Nonetheless, for most of my reading life, Schweitzer existed as little more than a name I knew.
Last year, I bought his The White Isle (1980) because it was cheap, there was some mention of a comparison to Lord Dunsany, and the cover looked cool. The novel is a dark (very dark!) take on the Orpheus and Eurydice story. It's a powerful and bleak story of love and blind obsession set in one of the most despairing worlds I've ever encountered. I reviewed it last year at my site and promised myself to keep my eyes open for more of Schweitzer's work. When Echoes of the Goddess showed up as an e-book, I snagged it at once.
Some of the stories in Echoes, like "The Stones Would Weep", read as if peering into someone's dream. A young shepherd, Ai Harad, living in the time just after the death of the Goddess, is a singer of rare beauty. One night, the song he composes is so entrancing a Bright Power in the form of a great Lady, a lingering bit of the Goddess, is captivated by it:
Then, after a pause, he was moved to make another, different song. He scarcely had words for it, but he sang, and the words came. He sang of a longing for something more beautiful than anything on Earth, something to transcend human conceptions of beauty, and he wanted to be raised to this new level, to be reassured, to understand.
His need to sing and his own enchantment with the Lady separates him from his family. Finally, his encounter with the Bright Power leaves him transformed in strange and terrible ways.
"The Story of a Dadar" introduces the war between sorcerous siblings Emdo Wesa and the inhuman Etash Wesa. To extend the range of their power and influence, wizards can sacrifice pieces of their bodies to create dadars. For a bit of an eye, Emdo creates a bird that will live long enough to carry out its mission and then perish.
Etash Wesa had made many, many dadars. His almost shapeless pink bulk floated inside the coffin, awash in blood, slowly turning over. In the gouged-out bulk which had been a head, there was an opening  —  I couldn't call it a mouth  —  which mewed and babbled and spat blood when it rose above the surface. One stubby remnant of an arm twitched like a useless flipper. And yet it was no hopeless thing.
Etash has given up limbs and organs, reducing himself to a monstrosity, to create human-like dadars not aware of their nature. Pandiphar Nen and his wife Tamda are healers. They travel the land, not fixing bones or curing disease, but rescuing people whose souls are injured and trapped inside their dreams. During such a rescue, Pandiphar learns that he is a dadar when the Power harming a girl tells him. The healer tries to fight his nature, but soon realizes that he is a tool of Etash Wesa. His sole purpose in life becomes to seek out and kill Emdo Wesa.
"Dadar," though, is about much more than a sentient weapon in a wizards' war. Using the trappings of fantasy, Schweitzer tells a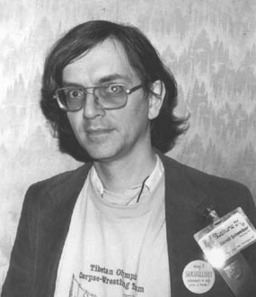 moving story about what it is to be human.
In "The Diminishing Man," we learn more of the nature of the war between Emdo and Etash Wesa. Etash is hoping to accrue enough power and knowledge to be elevated to godhood when the new age begins and Emdo wants to prevent that.
Even Emdo, while still human by most outward appearances, has been changed by his dedication to the sorcerous arts. In a passage I found remarkably sad, we learn how much:
Within, a woman sang a love song. He tried to weep, remembering what it was to be young and in love, so long ago, but he could not. He had no tears, having sacrificed them in a magical experiment once. Besides, he was not sure he had ever been in love. His memory played tricks on him sometimes.
Emdo spends many nights lost in great, complex dreams he is unable to navigate. Convinced he must understand them, he sends out a dadar to find a great dreamer. His creation returns with a young slave named Tamliade. Together, they not only dive deep into the wizard's dreams, but they confront the deformed Etash and experience a terrible, transfiguring event.
Schweitzer doesn't stint on the grotesque. In "Holy Fire," he creates landscapes as strange as you might find in a Clark Ashton Smith fantasy:
Far below on the forest floor, the decaying body of a giant stretched for miles upon endless miles, half submerged in a swamp of coagulated blood. The trees were growing out of it, the entire forest like a fungus growth on this thing which in any sane universe could never, never have been alive. Curves of flesh rose like islands. The skin had collapsed between some of the ribs, leaving gaping chasms large enough to swallow cities.
He can also be quite gentle. My favorite story is the moving "Three Brothers." Kudasuin is the youngest of three brothers, "master magicians of a race of master magicians," living in a golden chamber outside the stream of Time. Hoping to fill an emptiness which has grown in him, Kudasuin exits the chamber, only to find himself in the middle of a savage assault on a scattered group of refugees. He rushes to protect a woman and her son, but in order to evade a charging cavalryman, winds up freezing them and himself in time. They emerge far in the future and Kudasuin vaguely remembers his two brothers and the golden chamber as a dream. He marries the woman, raises her son as his own, and struggles to understand the world. He becomes a great philosopher as he strives to comprehend the "mystery of mysteries, the reason men bear the pain of age and death."
All the other stories in Echoes of the Goddess bear reading. In a day where too many books are written in flat prose (for a discussion, check out Connor Gormley's Black Gate article, "Who Took the Flowers Out of My Prose?"), Schweitzer's is anything but. While there are tonal similarities to the phantasmagorical stories of Dunsany and Clark Ashton Smith, his writing is less ornate and more immediate. It's rare that I'm really floored by the word-by-word construction in a book these days, but this one has done it.
The most successful stories in the book (the ones I've discussed along with "The Stolen Heart") are peopled by substantial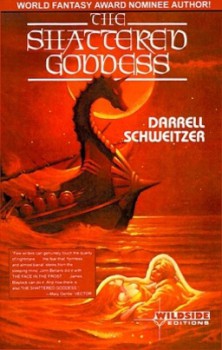 characters with palpable fears and dreams. Behind all the magic lanterns, deformed wizards, and drifting bits of divine power, these stories are an exploration of what it is to be human.
Love is paramount in several of the tales and those who search for and find it have the most gratifying outcomes. That they must work for it only makes it more enduring and satisfying. Other characters struggle and fight for their autonomy, some from enemies, some from friends. As much as these stories are about adventures and sorcery, they are even more concerned with how people make life worth living in the face of hardship and death.
In "Three Brothers," while discussing his work with his wife, Sansha, Kudasuin tells her what he has learned:
"I am just beginning my explorations, Always, I am just beginning. Everything is a prologue," he would say to Sansha.

"What have you discovered so far?"

"That being alive is a mystery. That being human is a mystery. That love is a mystery without an answer."

"That is enough. Must you seek further?"
Echoes of the Goddess is a book that deserves to be read widely. In this bleak age of ponderous tomes written in flat prose about the problems of unsympathetic characters, Darrell Schweitzer's stories are rare, wondrous things. Not every story worked as well for me as the ones I've highlighted, but all contained moments of great writing. This is one of those books I will press on anybody who gives me an opening.
There's a novel, The Shattered Goddess, set in the same world. Originally from 1983, Wildside reprinted it in 1999. I ordered my copy on Saturday and it showed up this morning. I'm really looking forward to it.