Take Dungeon Delving to the High Seas in Descent: The Sea of Blood
Take Dungeon Delving to the High Seas in Descent: The Sea of Blood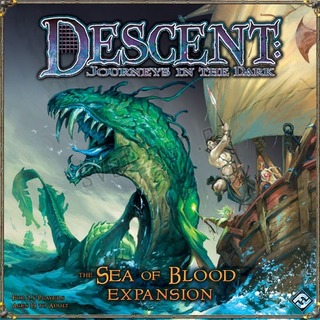 Okay, that title doesn't make any sense. Dungeon delving… on the ocean. You know what that sounds like? Drowning, that's what it sounds like.
But let's move on. I'm still processing the four boxes of loot I brought back from the Spring Games Plus Auction and, like a determined CSI agent at a crime scene, putting clues together to determine how I ended up with a copy of Descent: The Sea of Blood.
Let's say a few words about the basic game, Fantasy Flight's Descent: Journeys in The Dark, because it came up for auction and … man. Everybody wanted it. Seriously, it was like feeding time at the crazy cat lady house. There were two copies of the long out-of-print first edition and they were way out of my price range. The first, a jumbled box containing the game and all the expansions, sold for $92, and the second, an unpunched set of the first edition only, sold for $130. (If you're in the market, Amazon still has new copies from a handful of vendors, starting at $289.)
So what's Descent all about, then? To be honest, I'm a little vague on the specifics, 'cause my copies are still in the shrinkwrap, but I do know it's one of the most popular of the dungeon-delving board games, which simulate the loot-and-scoot dynamic of Dungeons and Dragons in a more contained setting. (Other examples include Super Dungeon Explore, Castle Ravenloft, Legend of Drizzt, Claustrophobia, Warhammer Quest, DungeonQuest, Tomb, Cutthroat Caverns, and many others. And yes, my copies of those are shrinkwrapped too, so don't bother asking.)
Descent was originally released in 2007 and designed by Kevin Wilson. It pits an overlord against up to four hero players, who cooperate to complete a range of exciting objectives, like clobbering a sea-monster, or beating down a dragon (going strictly by the box cover art, which is generally a good indicator). For extra collectability — like it needed it — the game shares a setting with Fantasy Flight's other popular titles, Runewars, Rune Age, and Runebound.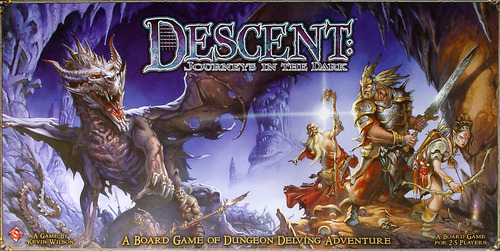 The core Descent box contains roughly 50 plastic miniatures, a handful of dice, 8 double-sided map tiles, over 150 tokens, and nearly 250 cards. Which means it's big and heavy. Gamers like to feel like they're getting a lot for their money and Descent certainly delivers. Every time you open the box, it's a mini-Christmas. (Not speaking from personal experience, of course.)
There were five expansion packs for the basic game and they're pretty sexy. They're also expensive  — used copies of Tomb of Ice and Altar of Despair routinely sell on eBay for $140 – $160 apiece, for example.
Some of the expansions are more collectable than others. Beats me why. All I know is they're out of print, I don't have them all, and the Games Plus Spring auction is supposed to help with that.
So I'm sitting in the audience, watching everyone go a little nuts for all things Descent-related. And then a copy of the fifth and last expansion pack, Descent: The Sea of Blood, casually makes its way to the auction block. And it's still in the shrinkwrap.
I take that as a sign that we're destined to be together. Up goes my auction card. The bidding starts at 5 bucks, but it doesn't stay in that vicinity for long. The auctioneer blows past $10, $20, and my card starts to falter. Maybe I should save my money for that copy of Rogue Trader coming up.
Next thing I know, the auction is over, and I'm the proud owner of a new copy of Descent: The Sea of Blood. Final price: $22.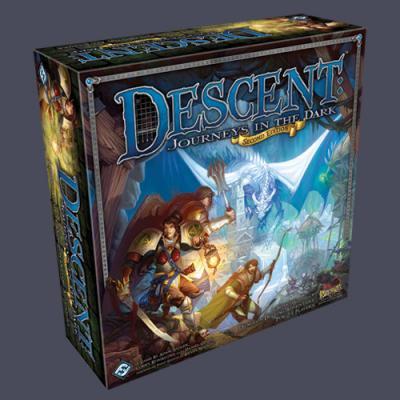 That's less than half of the retail price. Considering what these expansions typically go for on eBay, that's a really great deal. In fact, it's so great that I immediately get suspicious. Next time there's a lull in the action, I pull out my smartphone, and double check the price of Descent: The Sea of Blood at various online outlets.
Well I'll be damned. The first four Descent expansions — The Well of Darkness, The Altar of Despair, The Road to Legend, and The Tomb of Ice — sell online for upwards of $120. But not only is The Sea of Blood still in print, it's heavily discounted. Sellers on Amazon.com are unloading new copies for as low as 10 bucks. That's $55 off retail price.
Well, that's just part and parcel of the adventure of an auction. I paid what I was willing for Sea of Blood; the fact that it's offered at a lower price elsewhere doesn't mean that I got a bad deal.
All it really means is that you have an opportunity to grab Sea of Blood today for an incredible price — if you're so inclined (note: a copy of Descent: Journeys in the Dark is required to play.)
Here's the description.
The distant shores of Torue Albes run red – a new overlord has emerged to lay siege to the free cities of the island kingdom. However, a band of heroes have rediscovered a legendary ship that may be the turning point in the battles to come. Raise the sails, batten down the hatches, and set sail for the Sea of Blood!

The Sea of Blood features the return of the popular Advanced Campaign mode first introduced in the Road to Legend expansion. The Advanced Campaign allows a party of heroes to experience a series of adventures as one continuous story, culminating in an epic battle with the overlord himself. Sailing across the lands of Torue Albes, the heroes explore exotic islands, dig up buried treasures, and engage in fierce ship-to-ship battles with the forces of the overlord! They'll man the cannons, steer the ship, and swing across on the ropes to board enemy ships, while deadly Daggertooth Sharks circle in the waters below. The heroes keep the skills and items they acquire during each adventure, allowing them to face progressively harder challenges and deadlier foes. However, the heroes won't be the only ones increasing in power – the overlord will also gain strength over time, coming ever closer to achieving his own nefarious goals!

Descent: The Sea of Blood contains:

6 storage boxes for hero, Overlord, and graveyard components
1 Pad of Campaign Sheets
1 Torue Albes Map Board
1 double-sided Ocean Poster Map
10 Power Dice
220 Cards
11 Ship and Map Pieces
Over 225 tokens, including Cannons, Lieutenants, props, map markers, training, and effects
And here's a quick pic of the contents (larger version, and additional screenshots, at Board Game Geek):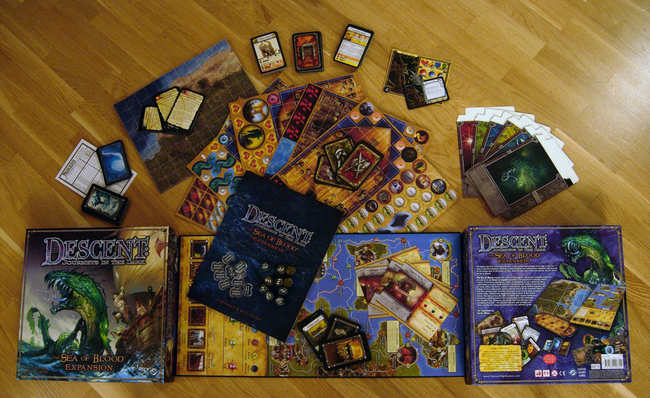 In 2012, Fantasy Flight released a second edition of Descent: Journeys in The Dark, which contains a streamlined version of the rules, allowing for much shorter play time. It's not compatible with the first edition, however, which perhaps explains why the last remaining first edition expansion, Sea of Blood, is so heavily discounted at retail. (Note that a conversion kit is available to transfer first edition monsters and heroes into second edition and many of the game components are transferable as well).
Descent: The Sea of Blood was designed by Kevin Wilson and published by Fantasy Flight Games. It was released in 2009 at a retail price of $65.99. Learn more at the Fantasy Flight store.