Announcing the Winner of M. Harold Page's The Sword is Mightier and Blood in the Streets
Announcing the Winner of M. Harold Page's The Sword is Mightier and Blood in the Streets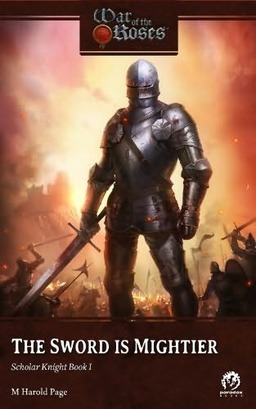 Last month announced a contest to win both novels in M. Harold Page's exciting Scholar Knight series: The Sword is Mightier and Blood in the Streets, compliments of Paradox Interactive and M. Harold Page.
It's too late to enter the contest now, but it's not too late to discover Mr. Page's unique brand of heroic fantasy. Visit his blog here or stop by Black Gate every Thursday to read his regular column.
His recent articles for us have included So What's Wrong With (Some) Modern Fantasy?,  Understanding Tolkien: Why His Landscapes Work, Why Evil Overlords Need to be Competent, and Why Medieval Fantasy is Not Inherently Conservative (or Inherently Anything Political).
We received so many entries for this contest, we had to abandon our usual tracking and selection process. We gave up on spreadsheets to track the entries — but at least our D&D dice didn't fail us when it came time to determine a winner.
We are pleased to announce that the winner of both volumes in M. Harold Page's Scholar Knight series is Jackie Stevens of Aylesbury. Congratulations, Jackie! We'll be touch to let you know how you can claim your books.
Thanks to everyone who entered, and to M. Harold Page and Paradox Interactive for sponsoring the contest. The Sword is Mightier and Blood in the Streets were published on September 25 and December 12, 2013, respectively. They are available in digital format for $4.99 each.