New Treasures: Bloodstone by Gillian Philip
New Treasures: Bloodstone by Gillian Philip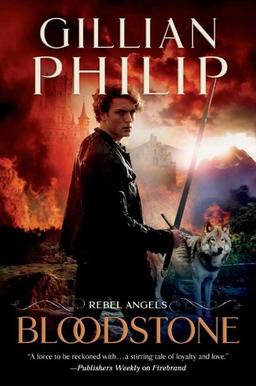 Back in May I reported on Firebrand, a new novel by Gillian Philip, first volume in her Rebel Angels series. Here's what I said, in part:
Firebrand seems like exactly the kind of fast-paced adventure Black Gate readers are interested in… The second and third volumes, Bloodstone and Wolfsbane, are already in print in the UK. Interestingly, while all three books are marketed as YA there, Tor has mainstreamed them here in the US. It's an interesting switch, and I'm curious to see how the market reacts.
The reviews were strong, as it turns out. Publishers Weekly called it "A stirring tale of loyalty and love," and over at SF Site Dave Truesdale drew parallels with none other than Lord Dunsany:
Packed with Machiavellian court intrigue of the most cold-blooded sort, horrible monster-beings from the realm of faery in league with Queen Kate, and the looming threat of the world of faery possibly destroyed forever, Firebrand is a fresh and welcome reimagining of oft-worked ground first laid out by Lord Dunsany and, as Dunsany wrote, far "beyond the fields we know."
He had me a "horrible monster-beings from the realm of faery." Bring on Book Two!
The second volume, Bloodstone, has now arrived. In this installment Sithe warriors Seth and Conal MacGregor continue their hunt for the Bloodstone demanded by their Queen, making secret expeditions across the Veil… with violent consequences that may devastate their family and their entire clan.
Bloodstone was published by Tor on November 19, 2013. It is 399 pages, priced at $24.99 in hardcover, and $11.99 for the digital edition.
See all of our recent New Treasures here.