Vintage Treasures: Prince of Foxes by Samuel Shellabarger
Vintage Treasures: Prince of Foxes by Samuel Shellabarger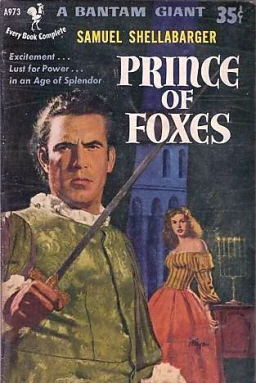 If you've been reading my Vintage Treasures posts for any length of time, you're probably aware I have a weakness for buying small collections. Especially vintage paperback collections.
There are a few ways to find interesting lots on online auctions sites like eBay, but I've had the most success recently searching for Bantam Giants, a line which repackaged a lot of popular historical adventure fiction in paperback with terrific covers — and without chopping it up first to fit the smaller format, a common practice in the early days of paperbacks.
Bantam Giants are a great way to learn about new writers (okay, old writers, but new to me), and they're ridiculously cheap. They sold — by the tens of thousands — on newsstands for 35 cents in the early 1950s. Generally speaking, copies in fine condition are still fairly common, and don't cost much more than that now.
Last year I talked about discovering the works of Lawrence Schoonover, especially his 13th Century adventure novels The Golden Exile and The Burnished Blade. Tucked into the same collection that contained those volumes was a gorgeous book titled The King's Cavalier, by someone named Samuel Shellabarger.
My guides through the world of 40s and 50s historical adventures, the Honorable Howard Andrew Jones and John C. Hocking, have been telling me about Shellabarger for years. So I was delighted to find another of his novels in the latest collection of Permabooks and Bantam Giants I acquired last month: Prince of Foxes, a tale of adventure and intrigue in Renaissance Italy.
It follows the exploits of Andrea Orsini, a talented and resourceful peasant who rises through the ranks to become a political agent for the sinister Cesare Borgia. It was filmed in 1949, with Orson Welles as Borgia and Tyrone Power as Orsini.
Here's the inside copy: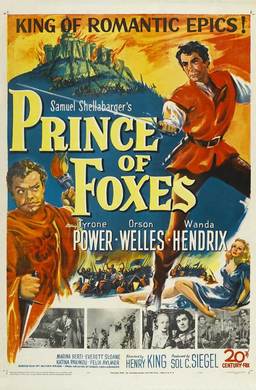 A handsome, unscrupulous rake… A young and beautiful wife… An old and harmless husband…

Handsome, dashing young Andrea was an out-and-out villain; an intriguer and an expert in dark diplomacy. He was unscrupulous with beautiful women — and as treacherous in politics as he was in war! Born in a lowly blacksmith shop, Andrea committed almost every crime to win power and wealth — until he fell in love! Young Camilla and her aged, aristocratic husband were only two more human pawns to be used in Andrea's intrigues — but they made an honorable man of him in the end!
This was not, you'll note, the back cover copy… putting blurbs on the back of paperbacks apparently hadn't been invented yet. Instead they were taken up with the back half of the gorgeous wrap-around cover, something I miss. (Here's the back covers for this set, just to give you a taste. You can tell which ones are Bantam Giants at a glance. And here's the spines, just for you completests.)
Prince of Foxes isn't the only intriguing title in my new collection (see all the covers here). I'm also curious about Bruce Lancaster's Phantom Fortress, Hervey Allen's The Forest and the Fort (fabulous cover on that one… at first glance, it's easy to overlook the cranky-looking husband at the front of the boat, wondering what his young bride is doing cuddling up to that strapping brave), and Inglis Fletcher's gloomy-looking Men of Albemarle.
But the real curiosity is at the top left: Eastern Shame Girl, a 1947 Avon paperback which appears to be a collection of "romantic" (i.e. fairly sexual) fables and "forbidden tales" from Asia collected by George Soulie DeMorant. As you'd imagine, the tales seem tame by modern standards — but the interior line drawings are not, and feature a surprising amount of nudity. There was at least one other volume from DeMorant, Chinese Love Tales, collecting stories of "exotic excitement and forbidden pleasures of the Orient."
Prince of Foxes was published by Bantam Books in January 1952. It is 532 pages in paperback, priced at 35 cents. I bought my copy on eBay as part of that collection of a dozen titles for $14.99 (including shipping), or roughly $1.25 per book.