Vintage Treasures: The Bantam Giant Novels of Lawrence Schoonover
Vintage Treasures: The Bantam Giant Novels of Lawrence Schoonover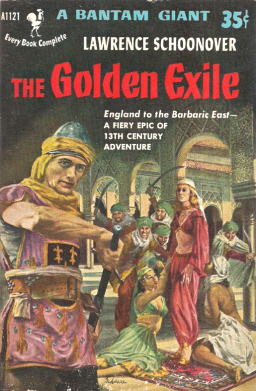 Who the heck is Lawrence Schoonover?
I had no idea. At least until I found myself in an unexpected bidding war for a beautiful collection of Bantam Giant paperbacks on eBay, including two by Mr Schoonover: The Golden Exile and The Burnished Blade (cover here).
Don't know much more about him. I'm sure a trip to Wikipedia would tell me lots about Schoonover but, really, his covers tell me pretty much everything I need. Apparently he wrote big fat adventure novels featuring dudes with swords, exotic settings, and women who had little use for clothing. I'm a fan.
And it certainly doesn't hurt that his novels were published as Bantam Giants.
There's just something about the Bantam Giants that really brings out the collector in me. If you're any kind of paperback aficionado, you know what I'm talking about.
The first Bantam Giants appeared in 1951, during the tenure of the legendary Ian Ballantine. I don't believe they were numbered separately from Bantam's usual sequencing, which makes cataloging them somewhat problematic, but their ranks included James Michener, Emile Zola, Harold Robbins, Sinclair Lewis, Robert Wilder, C. S. Forester and many, many more.
Some of the best literature of the 20th Century appeared in paperback as Bantam Giants, such as Robert Penn Warren's All The King's Men and Ernest Hemingway's For Whom the Bell Tolls.
They also included a superb assortment of classic adventure novels from Rafael Sabatini, Thomas R. Costain, John Masters, John Dickson Carr, and even some dude named Lawrence Schoonover.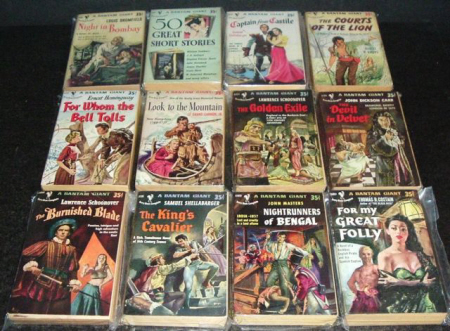 There was also a smattering of science fiction and fantasy, such as Aldous Huxley's Brave New World, Ray Bradbury's classic anthology The Circus of Dr. Lao and Other Improbable Stories, John Collier's Fancies and Goodnights, and novels by Bradbury and Jerry Sohl.
I think a large part of the appeal of Bantam Giants is their sheer size. They promise a lot of reading for your 35 cents. And dang, they look good don't they? Just check out that beautiful eBay lot at left (click for bigger version.)
'Course, I'd know a lot more about Schoonover if I'd just managed to win that damn auction. Since I didn't, I was forced to hunt down virtually every single title in the set individually on eBay. I finally managed to complete that daunting task late last week. It's okay, I'm sure the kids didn't really need that college fund.
And before you ask which I'm going to read first, I think that should be fairly obvious. I'm curious about all of them, but before anything else I have to find out just what the Great Folly of that young lady in the bottom right is.
Even though I think I have a pretty good idea.