New Treasures: The Doomsday Vault by Steven Harper
New Treasures: The Doomsday Vault by Steven Harper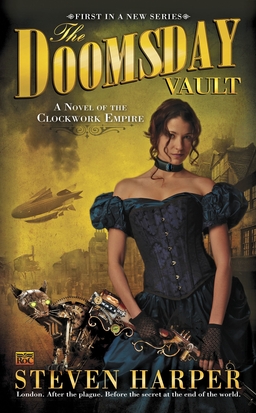 There's no shortage of intriguing new SF and fantasy series out there and more arriving every month. So how is a busy reader supposed to choose?
Easy! Based on cover art, of course. Duh. Plus, it doesn't hurt to apply what I like to call The O'Neill Rule — always wait until at least the fourth installment in a series arrives before you commit to the first one, so you're less likely to get caught in a George R.R. Martin-like wait between volumes.
The Havoc Machine, the fourth novel in Steven Harper's Victorian steampunk-zombie Clockwork Empire series, was published earlier this year. And that means I can finally crack open the first, The Doomsday Vault. Good thing too, because it has a killer cover and the wait was killing me.
The Honorable Alice B. Michaels is in a life or death struggle for survival — socially speaking, that is. At twenty-one, her age, her unladylike interest in automatons, and the unfortunate deaths of most of her family from the clockwork plague have sealed her fate as a less than desirable marriage prospect.

But a series of strange occurrences are about to lead Alice in a direction quite beyond the pale. High above the earth on the American airship USS Juniper, Gavin Ennock lives for the wind and the sky and his fiddle. After privateers attack the Juniper, he is stranded on the dank, dirty, and merciless streets of London. When Alice's estranged aunt leaves her a peculiar inheritance, she encounters Gavin under most unusual — even shocking — circumstances.

Then Alice's inheritance attracts the attention of the Third Ward, a clandestine organization that seizes the inventions of mad geniuses the plague leaves behind — all for the good of the Empire. But even the Third Ward has secrets. And when Alice and Gavin discover them, a choice must be made between the world and the Empire, no matter the risk to all they hold dear.
Steven Harper also writes SF and movie novelizations under the name Steven Piziks, and romantic suspense under the name Penny Drake. The Doomsday Vault was published by Roc Books in November 2011. It is 382 pages, priced at $7.99 for both the digital and paperback version. It was followed by The Impossible Cube (May 2012), The Dragon Men (November 2012), and The Havoc Machine (May 2013).