Gateway Drug: Excalibur
Gateway Drug: Excalibur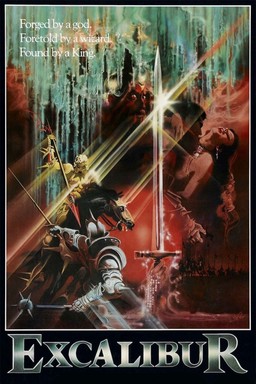 First, I should say how delighted I am to be blogging here at Black Gate. Not only are the companions first-rate, but I'm thrilled to be able to talk about some of my favorite things: heroic fantasy, sword and sorcery, and mythology.
I came into fantasy the way a lot of people did: via Star Wars. Prior to that, I read almost exclusively hard science fiction, where the aliens and the spaceships were the point of the story, not window-dressing. But among the many other things Star Wars did for me in 1977 was nudging me into those realms of magic where not everything was concrete (or metal or plastic).
Once inspired, I read The Lord of the Rings like everyone did, although I confess that the microscopic font in the paperbacks almost scared me off, as well as the textbook-like appendices. Marvel's Savage Sword of Conan comic led me to the original Howard stories, which I loved. But the thing that finally turned me into a bona fide, full-bore fantasy fan was Excalibur.
It came out the Summer after I graduated from high school. Much like music before Elvis, unless you know what fantasy movies were like before this, you can't appreciate what an eye-opener this film was. Up until then, the only fantasy films around were family-friendly knock-offs of Star Wars, all aiming for that same market and all telling essentially the same story of a simple young man who sets off on a great, mostly chaste and bloodless, adventure.
Excalibur didn't just boast sexy girls, it featured real sex. The battles were were filled with impaled knights and severed, blood-spurting limbs. The mysticism had the dark, heavy quality of church liturgy, nothing like the breezy simplicity of the Force. And in place of the serene Obi-Wan Kenobi or Gandalf, you had a Merlin who was half sage, half clown, and never as smart as he thought he was.
But the visual depiction of King Arthur was probably the single thing that changed my whole idea of fantasy.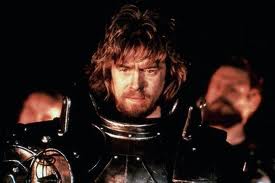 Up until then, the King Arthurs I'd encountered had been handsome, clean-cut heroes, the kind who dwelled in storybooks and Disney movies. But Nigel Terry's Arthur had long unruly hair (a bit like my own at the time), and beard more like a biker's than a bard's. And he was young: somehow the idea that King Arthur was ever a young man had escaped me.
I realized then that heroes didn't have to be Luke Skywalker; later, I would understand this as an unconscious rebellion against the omnipresent Hero's Journey that permeated fantasy after Star Wars. Sure, there's an element of that in Excalibur during its depiction of the teenage Arthur (also played by Terry; his range in this film is really exceptional and often overlooked). But Luke never got to grow up; Arthur does, and even grows old (and is still played by Terry).
So the path that started with Star Wars and found its true direction with Excalibur has now brought me to Black Gate. Nearly forty years of being a fantasy fan, and almost that long being a fantasy writer, trace back to the Summer of 1981. And King Arthur has become an integral part of my fantasy world (I even wrote my version of him in my novel, Dark Jenny).
So someone put on "O Fortuna" and lets ride into battle, shall we?