Richard Matheson, February 20, 1926 – June 23, 2013
Richard Matheson, February 20, 1926 – June 23, 2013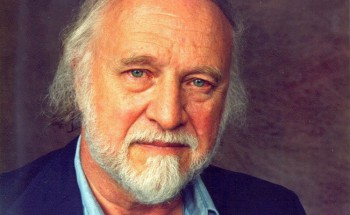 Richard Matheson, the legendary author of some of the most famous science fiction and horror novels of the 20th Century, died Sunday at the age of 87.
Matheson wrote over 25 novels and nearly 100 short stories, but is probably best known for his many works adapted into popular movies — including I Am Legend, The Shrinking Man, Hell House, Trilogy of Terror (based on three of his short stories), What Dreams May Come, Somewhere in Time (based on his novel Bid Time Return), A Stir of Echoes, and Real Steel (based on The Twilight Zone episode "Steel.")
He also wrote one of the most famous episodes of Rod Serling's The Twilight Zone, "Nightmare at 20,000 Feet," which starred a young William Shatner. He adapted his 1971 short story "Duel" into the TV movie of the same name, launching the career of its young director, Steven Spielberg. Matheson later noted the story's inspiration came from a trip he took with Star Trek author Jerry Sohl ("The Corbomite Maneuver"), when they were dangerously tailgated by a large truck.
Matheson was scheduled to be the Guest of Honor at the upcoming World Fantasy Convention in Brighton, England. The convention committee has announced that the convention will now be "dedicated to his memory and stand as a tribute to one of our genre's greatest storytellers."
As Matthew Wuertz wrote on the occasion of his 87th birthday in February:
Even if you haven't read his stories, Matheson's writing has undoubtedly influenced something you've read or watched. His work will leave a noticeable impact for many years to come. Perhaps he should reuse his novel's title I Am Legend for an autobiography.
Matheson received the World Fantasy Award for Life Achievement in 1984, and the Bram Stoker Award for Lifetime Achievement in 1991. He was inducted into the Science Fiction Hall of Fame in 2010. He won the World Fantasy Award twice, for novel Bid Time Return (1975) and his collection Richard Matheson: Collected Stories (1989). Read his Entertainment Weekly obituary here.