Richard Matheson Turns 87 Today
Richard Matheson Turns 87 Today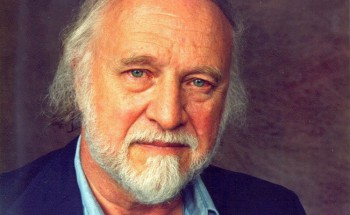 Happy Birthday, Richard Matheson!  Today, the prolific author turns 87.
Matheson wrote over 25 novels and nearly 100 short stories. Some of his better-known work includes The Shrinking Man, I Am Legend, and A Stir of Echoes (all adapted for film).  Additionally, the 2011 film Real Steel was partly based on Matheson's short story, "Steel."
He was also a screenwriter for both film and television. He wrote 14 episodes of The Twilight Zone, including "Nightmare at 20,000 Feet." In this classic episode, William Shatner plays an airline passenger who sees a humanoid monster on the wing, but whenever he gets others to peer out the window, they see nothing. For me, this ranks in my top 5 favorite Twilight Zone episodes.
Matheson began his professional writing career with the publication of his short story "Born of Man and Woman" in The Magazine of Fantasy and Science Fiction in 1950. Later that year, Galaxy Science Fiction published two of his short stories; "Third From the Sun" appeared in Galaxy's premiere issue.
Later this year, Matheson will be one of the Guests of Honor at the World Fantasy Convention in London. To those attending, I hope you'll take a moment to wait in the long line at his table during the autograph session. I doubt you'll regret spending the time in exchange for a few words with the author.
Even if you haven't read his stories, Matheson's writing has undoubtedly influenced something you've read or watched. His work will leave a noticeable impact for many years to come. Perhaps he should reuse his novel's title I Am Legend for an autobiography.