Iain M. Banks, February 16, 1954 – June 9, 2013
Iain M. Banks, February 16, 1954 – June 9, 2013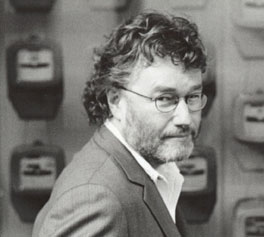 Iain M. Banks, the Scottish novelist who — almost uniquely — created parallel careers as both a bestselling literary author and a top science fiction author, died yesterday at the age of 59, two months after announcing he had terminal gall bladder cancer.
Iain Banks burst onto the literary scene in 1984 with his first novel, The Wasp Factory. It was both a critical and commercial success, listed in 1997 as one of the top 100 books of the 20th century, and it allowed Banks to become a full-time writer.
I heard a great deal about The Wasp Factory when it was first published, but it was his first science fiction novel, Consider Phlebas (1987) that really brought him to my attention. It was the first volume of his popular The Culture series, a sequence of ten books set in a far future civilization run by intelligent machines. Consider Phlebas and the volumes that immediately followed — The Player of Games, The State of the Art, and Use of Weapons — were much read and discussed among my small circle of friends in Ottawa.
Banks published science fiction as "Iain M. Banks," and literary fiction as "Iain Banks." All told, he wrote a total of 26 novels; his most recent were The Hydrogen Sonata by Iain M. Banks (Oct 9, 2012) and Stonemouth by Iain Banks, published one day later on Oct 10, 2012.
He won the British Science Fiction Association Award twice, in 1994 for Feersum Endjinn and 1996 for Excession. He was nominated for the Hugo Award in 2005 for The Algebraist.
His last novel, The Quarry by Iain Banks, is scheduled for publication later this month, on June 20.