Goth Chick News: Sookie Soon to be Dead Ever After
Goth Chick News: Sookie Soon to be Dead Ever After
It was 2003 when the publicist for an emerging author contacted the Black Gate office to ask if someone wanted to interview her client, Charlaine Harris. Ms. Harris was on tour for book number three of her vampire/mystery/romance series starring a telepathic cocktail waitress named Sookie Stackhouse.
I agreed to do it, having read the first two books and liking them well enough, but not loving them… yet.
At least the vampires in this series were dangerous, murderous blood suckers and not sparkly, angsty, tree-huggers.
Ms. Harris and I met for lunch at an Italian restaurant, prior to her proceeding to the local Borders book store where she was doing a reading. She was the quintessential Southern lady with impeccable table manners and an incredible imagination.
I found myself hanging on her every word.
At the time, no one could have predicted that only a few months later Alan Ball, stuck at an airport while on a business trip for his current HBO project Six Feet Under, would pick up Ms. Harris's first two books to pass the time. Ball would fall hard for Sookie and subsequently begin pursuing both her and her creator in earnest as source material for a new HBO series he would eventually call True Blood (now in its sixth year and the first without Ball at the helm).
So here we are, one decade and eight books later, and about to bid Sookie goodbye for good; Charlaine Harris's twelfth and final tale in the series, Dead Ever After, is ready to hit the shelves next month.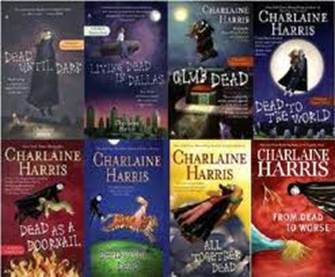 Life has taken Sookie from a waitress in Merlotte's Bar, Bon Temps, to part owner; from social outcast to the heart of her community; from a vampire's girlfriend to the wife of one of the most powerful vampires in the state. She has survived earthquakes, revolutions, and attempts on her life. Sookie has endured betrayal, heartbreak, and grief… and she has emerged a little stronger, and little wiser, every time.
It's what has made her fun to watch and mixing her down-to-earth southern-ness with a supernatural cast of characters has been sometimes humorous, sometimes scary, sometimes sexy, but always superbly entertaining.
Asked why she's shutting down the series, Harris says, "I felt that I'd told the story I set out to tell. I thought continuing it, which I could have done, would have been a disservice to readers who have stuck with me this long."
In preparation for the last installment, I have dutifully gone back and re-read the previous eleven books and now, today, I can definitively tell you how much I have come to appreciate these characters and this very colorful story. And though I'm anxiously waiting for the last chapter of Sookie's saga, it sort of feels like an old friend has informed me she's moving away for good.
The press release for Dead Ever After reads:
Sookie Stackhouse finds it easy to turn down the request of former barmaid Arlene when she wants her job back at Merlotte's. After all, Arlene tried to have Sookie killed. But her relationship with Eric Northman is not so clear-cut. He and his vampires are keeping their distance…and a cold silence. And when Sookie learns the reason why, she is devastated.

Then a shocking murder rocks Bon Temps, and Sookie is arrested for the crime.

But the evidence against Sookie is weak, and she makes bail. Investigating the killing, she'll learn that what passes for truth in Bon Temps is only a convenient lie. What passes for justice is more spilled blood. And what passes for love is never enough…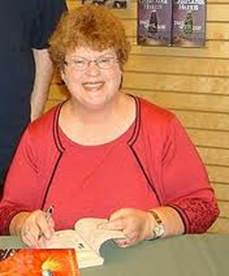 Fan speculation has been rabid with in-depth analysis being done on the cover art (as well as the artwork that will adorn either the inside front or inside back covers) of Dead Ever After. Though Vampire Bill is nowhere to be found, all of Sookie's past "entanglements" are depicted in their "true" form, which is intriguing, but hardly leaks any real clues. What we can likely deduce is that all of the major characters will make an appearance in Sookie's last drama.
Unlike with prior releases, Ace Publishing does not appear to be sending around any review copies; so though the Internet is filthy with wild speculation, no one really knows what will happen.
However, I do have a theory…
And it's a sound theory backed up by all the nuances I picked up from a recent foray through the past eleven episodes of Sookie's life. It's exciting and dangerous and I even typed it out entirely, bracketing it by the word SPOILERS.
But then I back-spaced it out.
The world Charlaine Harris has created is just too rich and too enjoyable to not discover for yourself. Okay, the books probably fall a bit more on the "chick lit" side of the aisle than on the horror side, but that just means my affection for them is a true endorsement of the storytelling.
Hate chick lit – love Charlaine Harris.
Dead Ever After is available in hardcover and e-book on May 7th.