P.G. Sturges Delivers His Best Yet
P.G. Sturges Delivers His Best Yet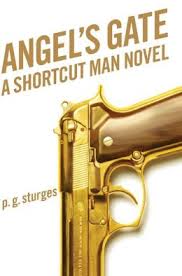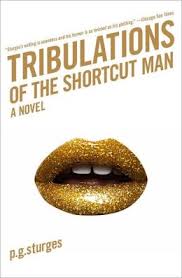 Angel's Gate is the third entry in P. G. Sturges's award-winning Shortcut Man hardboiled mystery series. The book sat on my night stand untouched for a week or so as I couldn't shake the suspicion that it would mark the descent into formula that befalls most series. It would still be amusing and Sturges's prose would still be engaging, but it would be the inevitable come down after the joy and freshness of the first two titles.
Early on in the book, there is a sequence where Dick Henry, the Shortcut Man, is hired by a client to find her sister who came out to Hollywood seeking fame and fortune ten years before and has since fallen off the map. It's a familiar scene that immediately recalls Raymond Chandler's The Little Sister, likewise a hardboiled mystery about Hollywood scandal and hypocrisy. That book was Chandler's fifth and, while still essential reading, it lacks the freshness and vitality of his early Philip Marlowe mysteries.
I was certain I would feel the same way about Angel's Gate. Happily, I was dead wrong.
The premise this time revolves around a highly successful movie director who disfigures and tortures a starlet during a drug-fueled sex romp and the lengths his handlers are willing to go to protect the director's reputation and prevent bad publicity coming down upon his current production. Complicating matters is the fact that the starlet is one of a stable of nearly thirty nubile women that the reclusive and highly idiosyncratic movie mogul Howard Hogue has selected as his personal concubines. Hogue doesn't share his women. Hogue is also the director's producer. Early on, Sturges establishes the madness of big studio Hollywood as a house of cards just waiting for the Shortcut Man to blow it down.
That's just the start. Soon, as Dick Henry starts digging, he uncovers a nearly identical case from decades past involving one of Hollywood's most respected actors. Sturges parades a series of bimbos across the stage to fall for the bright lights and promise of stardom. They start out rather comical, but soon emerge as tragic dreamers – particularly once the penny drops for the reader that most of these young women will never be heard from again and some will meet similarly tragic fates as the two victims the story concerns.
Sturges has shown a knack in his earlier books for his treatment of street people. A homeless man who wanders into the action early on turns out to play a highly significant role that connects Hollywood's past with its present. Sturges understands that show business is not only peopled with broken-hearted dreamers, but surrounded by the broken lives of those who gambled everything and lost. Some of his set-ups make for devastating punchlines that build in meaning as they recur and some of what the reader mistakes for punchlines are later revealed to be tragedies. The fragile thread separating comedy from tragedy is one of the dominant themes in this wonderful book.
Of course, as with Sturges's first two books, the mystery is almost secondary to his gifts at crafting believable characters who are recognizable and even likable despite being lowlife porn producers and actors, strippers, blackmailers, murderers, pushers, and drug addicts. Angel's Gate deals with a higher class of scum simply because major Hollywood studios offer a veneer of respectability, but the addictions and amorality are nearly the same as what Dick Henry encountered in the porn industry in the past.
There is a sense of finality about the book that leaves the reader wondering if they have seen the last of Dick Henry and company. I sincerely hope not, particularly if Sturges can keep surprising me with the quality of his work. The mark of success for a writer is to leave readers eager for more and finishing Angel's Gate made me sorry there are only three Sturges titles to enjoy.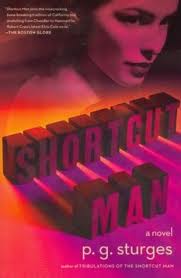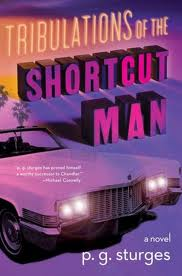 His gift for seeing the humanity in characters least likely to elicit sympathy from readers is a unique one. Sturges also demonstrates a mastery of the lost art of breaking the pain barrier and generating humor from situations that would ordinarily be horrific. There is a brilliant setpiece involving a safecracker that builds to levels of comic genius rarely seen since Hollywood's Golden Age. There is also a devastatingly funny one-liner that I will not spoil simply because taken out of context, it would doubtless offend readers whereas coming so far out of left field in the book, I found it impossible not to laugh in spite of myself.
Reading The Shortcut Man series is like visiting old friends. I suspect they are comparable to many boys' nights out and girls' nights out in that much of the humor would never be shared with a spouse or family, but is part of what cements friendships and makes people cherish outrageous antics from their past. You also can't help liking Dick Henry for all of his failings. He's the underdog who is equally comfortable in the slums as he is among the powerful and privileged. He's got a good heart underneath it all and you want everything to go well for him in the end, even though the odds are stacked against him and he does much of the stacking himself.
Usually when one stumbles across a poison pen letter to Hollywood from Sunset Blvd. to S.O.B. to The Player to Get Shorty, deciphering the real identity of the characters or identifying the cause of the writer's angst is of prime interest. Considering Sturges's pedigree, one would be forgiven for expecting the same here. Despite Howard Hogue's similarity to Howard Hughes or Hugh Hefner, the point isn't whether any real people are the intended targets in Angel's Gate so much as the Hollywood story it tells is universal, whether the setting is the Golden Age or today.
It is in the same fashion that Sturges's portrayal of life in inner city Los Angeles rings so true for a native Clevelander, his great accomplishment is seeing the universal human condition, regardless of whether one is on the bottom or the top. Sturges understands that people's flaws are the same and so are their redeeming qualities. Somehow, through all of the comic grotesqueries, The Shortcut Man series leaves the reader with a clearer perception of how beautiful people really are, how precious life really is, and how few of us appreciate what we have until it is gone. Hands down, this is likely the best book I will read this year. Don't take my word for it. Discover P. G. Sturges's work for yourself.
---
William Patrick Maynard was authorized to continue Sax Rohmer's Fu Manchu thrillers beginning with The Terror of Fu Manchu (2009; Black Coat Press). It was followed by a sequel, The Destiny of Fu Manchu (2012; Black Coat Press). Next up is a collection of short stories featuring an original Edwardian detective, The Occult Case Book of Shankar Hardwicke and a hardboiled detective novel, Lawhead. To see additional articles by William, visit his blog at SetiSays.blogspot.com