Urban Fantasy Corner: Jeaniene Frost's Night Huntress
Urban Fantasy Corner: Jeaniene Frost's Night Huntress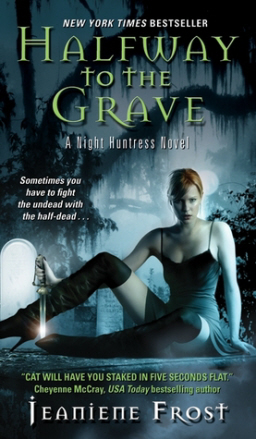 Winter is coming… Wait! That's the wrong series. But winter is coming, and it's time for me to break from Urban Fantasy and dive into something to warm readers up: Paranormal Romance! Yes, love triangles, were-critters, and vampires with some major egos.
That's why today I am going to push Jeaniene Frost's Night Huntress series, in many ways one of my guilty pleasures. The romance between the half-vampire heroine Cat and her self-assured vampire Bones might be one of my favorites. Unlike most PNR, Night Huntress follows the main couple, and doesn't switch couples every book.
Frost always comes up with something new to drive between the main couple, and even though I feel pretty sure they will make it out all right, the twists are still jaw-dropping.
Warning: The Night Huntress is a romance, and it does have naughty scenes, along with raunchy humor. The series stands at six volumes, beginning with Halfway to the Grave.
Half-vampire Catherine Crawfield is going after the undead with a vengeance, hoping that one of these deadbeats is her father — the one responsible for ruining her mother's life. Then she's captured by Bones, a vampire bounty hunter, and is forced into an unholy partnership.

In exchange for finding her father, Cat agrees to train with the sexy night stalker until her battle reflexes are as sharp as his fangs. She's amazed she doesn't end up as his dinner — are there actually "good" vampires? Pretty soon Bones will have her convinced that being half-dead doesn't have to be all bad. But before she can enjoy her newfound status as kick-ass demon hunter, Cat and Bones are pursued by a group of killers. Now Cat will have to choose a side… and Bones is turning out to be as tempting as any man with a heartbeat.
Halfway to the Grave was published in October 2007 by Avon. It is 384 pages and priced at $7.99 in Mass Market Paperback, and $4.99 for the digital version.