Black Gate Online Fiction: "The Daughter's Dowry" by Aaron Bradford Starr
Black Gate Online Fiction: "The Daughter's Dowry" by Aaron Bradford Starr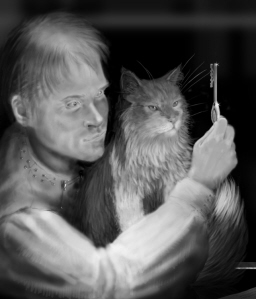 A famous explorer relates one of his earliest adventures, an exciting sea journey to a sunken tower where a legendary treasure awaits:
I inserted the key into the lock, amazed at how free of corrosion or accumulated grit the inner mechanism was. Yr Neh cocked his ears forward in surprise as well. Our eyes met, and we smiled to each other as I turned the key.

It didn't open. I felt the tension in the key, then its complete freedom of movement. Puzzled, I put an ear to the side. It was ticking softly. Yr Neh backed away warily, and I had begun to do the same when the box jumped into the air before me.

Flashing and turning, the box changed shape as it fell, landing again on the floor completely transformed. It was now a complex faceted spike of brightest gold. The point pounded into the floor and continued through the stone.

I lunged for the rope, diving through the shallow water on the floor. There followed a moment of silence, broken only by the squeak of the rope from which I still clung, soaked to the skin. Yr Neh sighed in relief, and I joined him. Then the shattered floor collapsed.
Aaron's first published story was "Mortal Star" in Black Gate 8, which SF Site called "complex and fascinating in design… A very fine story that is impossible to predict."
You can read the complete catalog of Black Gate Online Fiction, including last week's 25,000-word novella of dark fantasy "The Quintessence of Absence" by Sean McLachlan, and Jason E. Thummel's adventure fantasy novelette "The Duelist," here.
"The Daughter's Dowry" is a complete 9,000-word novelette of heroic fantasy offered at no cost, with original art by Aaron Bradford Starr.
Read the complete story here.