Tangent Online on "The Tea-Maker's Task": "An Entertaining, Tongue-in-Cheek Fantasy"
Tangent Online on "The Tea-Maker's Task": "An Entertaining, Tongue-in-Cheek Fantasy"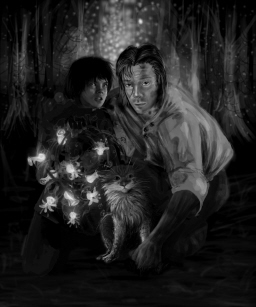 Louis West at Tangent Online reviews Aaron Bradford Starr's latest tale, published here on Sunday, December 30:
Aaron Bradford Starr's "The Tea-Maker's Task" is an entertaining, tongue-in-cheek fantasy about Gallery Hunters Gloren and his cat companion, Yr Neh. Their adventures take them from the rancid food of Burrow Deep Lane in the city of Ravanon to the workshop of a Tea-Making master then through the forests of Candelon, wherein lurks the Walker of the Woods, until they finally reach the ruined city of Vandelon. All the while, Gloren and the cat engage in constant, silent banter, much like two brothers or war buddies… I wanted more.
Gallery Hunters Gloren Avericci and Yr Neh were last seen seeking a legendary treasure in a sunken tower in "The Daughter's Dowry," published here on October 14.
You can read Louis's complete review at Tangent Online, and "The Tea-Maker's Task," a complete 9,000-word short story of heroic fantasy, free here.
The complete catalog of Black Gate Online Fiction, including stories by Mark Rigney, C.S.E. Cooney, Donald S. Crankshaw, Judith Berman, Howard Andrew Jones, Dave Gross, Sean McLachlan, Harry Connolly, and Jason E. Thummel, is here.