Goth Chick News: Nice Warm Bodies on a Cold Winter Day
Goth Chick News: Nice Warm Bodies on a Cold Winter Day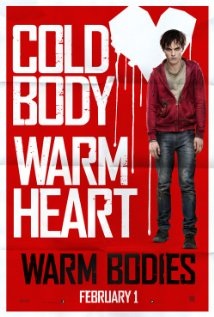 From Shakespeare to American Werewolf in London, audiences have always appreciated a little graveyard humor.  And for those of us who thoroughly enjoy having the snot scared out of us in the theater, there's almost nothing more sublime than the added adrenaline rush of not being able to decide whether to shriek with horror or laughter.
Therefore it was with double satisfaction that last week I got a look at the opening scene for a new flick called Warm Bodies; once because it furthers my prediction that zombies are the new vampires (following the polyester bell-bottoms that were the Twilight franchise, something had to give…) and twice because the clip was well, just so darn amusing.
Coming to theaters on February 1, just around the time when all of us in cold-weather states can relate to a zombie trapped in an airport terminal, Warm Bodies takes us into the mind of "R" the film's protagonist zombie played by Nicholas Hoult (late of X-Men First Class and Clash of the Titans) as he tries to make sense of his current situation and potentially save mankind.  The cast is rounded out by Dave Franco as "Perry" (James' younger bro), Teresa Palmer as "Julie" and John Malkovich as "General Grigio."
The fact that it has John Malkovich alone would be enough to get me to Warm Bodies on opening night.
So is it a horror movie?  An action film?  A romantic comedy?
Apparently it's a little of everything including Shakespeare.  According to IMDB:
The film is based loosely on Romeo and Juliet. "R" = "Romeo"; "Julia" = "Juliet; "Perry" = "Paris"; "M/Marcus" = "Mercutio"; "Nora" = Juliet's "Nurse" (the character of Nora is also a nurse).
See for yourself… (embedded trailer after the jump).
Happy 2013 and congratulations on surviving the Mayan apocalypse and the fiscal apocalypse.  The zombie apocalypse may still be pending however, so post what could be your final comments or drop an email to sue@blackgate.com.