New Treasures: The Demoness of Waking Dreams by Stephanie Chong
New Treasures: The Demoness of Waking Dreams by Stephanie Chong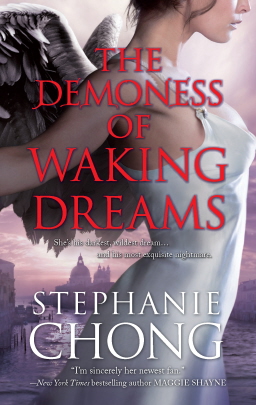 One of the critiques I get about my New Treasures column is that I don't cover much Paranormal Romance.
That's probably true. A lot of it arrives here at the rooftop headquarters, but I can't get Howard or Mike Penkas to read it. As for me, I like to focus on the week's most exciting titles for New Treasures, and I just don't know that much about what's really exciting in Paranormal Romance.
Yeah, that sounds like an excuse to me too. There's a lot of good work being done in the sub-genre — it's been the most popular form of fantasy for at least the last three years — and we're not doing a service to anyone by neglecting it. I should just jump in with both feet and educate myself.
So where do I start? I have a tried and true system for selecting books: I go with the best covers. And this week that meant my hands wandered towards Stephanie Chong's second novel, The Demoness of Waking Dreams.
Ex-cop Brandon Clarkson is an angel with an edge. His tough exterior is the perfect camouflage for his job — hunting down the most dangerous criminals on earth. A self-reliant and demanding lone wolf, Brandon is the perfect angel to track and capture demoness Luciana Rossetti.

Beneath the surface of Luciana's cool, green-eyed beauty lurks the heart of a malevolent killer. In the winding streets of Venice, she lures Brandon into her dark world of pleasure.

They are perfectly matched. Angel and demon. Man and woman. But only one can win the battle of wills, of strength and of desire.
My first thought was to pass this off to my teenage daughter Tabitha to get her take on it. But flipping though it, I discovered some pretty steamy scenes that would probably get me in trouble. For the sake of propriety, this is a mission I should undertake myself. Yeah. That would be best.
Chong's first novel, Where Demons Fear to Tread, is part of the same series (The Company of Angels), but seems to deal with different characters. This volume seems to be suitably standalone.
The Demoness of Waking Dreams was published by Harlequin MIRA on August 28, 2012. It is 359 pages for $7.99 in paperback ($6.99 for the digital edition).