Donald J Sobol, October 4, 1924 – July 11, 2012
Donald J Sobol, October 4, 1924 – July 11, 2012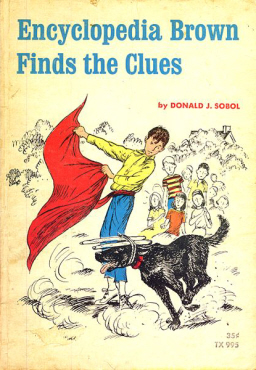 Donald J Sobol, the man who created greatly under-rated detective Leroy "Encyclopedia" Brown, died last week of natural causes at the age of 87.
Sobol, a clerk at the New York Public Library, published Encyclopedia Brown: Boy Detective in 1963. It was the first of what eventually became 28 volumes featuring the genius boy detective.
While the book was an instant hit, and the adventures of Encyclopedia Brown entertained generations of young readers, it took dogged persistence for Sobol to get his creation in print. According to later interviews, it was rejected no less than twenty-four times before Penguin Books bought it.
Sobol's Encyclopedia Brown books, really collections of short stories, follow the boy detective and his friends as he solved mysteries in his hometown of Idaville for "25¢ per day plus expenses." Occasionally Encyclopedia would assist his father, the chief of police, solve more serious crimes, but usually he was matching wits with a local gang of bullies led by Bugs Meany.
Sobol continued writing Encyclopedia Brown books his entire career, publishing five new volumes between 2000 and 2010. The most recent, Encyclopedia Brown and the Case of the Carnival Crime, was released in 2011. A twenty-ninth book, Encyclopedia Brown and the Case of the Soccer Scheme, is scheduled for release this October, in advance of the fiftieth anniversary of the release of Encyclopedia Brown: Boy Detective next year. HBO aired 10 half-hour episodes of Encyclopedia Brown, a live action version of the books with Scott Bremner in the title role, in 1989.
Sobol wrote 50 additional books in his lifetime, including the popular Two-Minute Mysteries and Secret Agents Four. He was born in New York City in 1924 and served in World War II before becoming a clerk at the New York Public Library. The success of the Encyclopedia Brown books allowed him to move to Florida to become a full time writer.
He will be missed.