Black Static 29
Black Static 29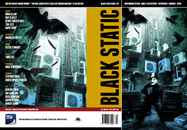 The latest Black Static has new look, with a gloss laminated cover and spine in a new size that expands to 96 pages. Same high quality horror  fiction.  This month features the work of Nina Allan, Ray Cluley, Renee Carter Hall, Tim Lees, and Baph Tripp.
Nonfiction by the usual suspects, Peter Tennant, Christopher Fowler, Tony Lee, and Mike O'Driscoll. The editor is Andy Cox.
Black Static alternates monthly publication with sister SF and fantasy focused Interzone.
Here's how Allan's "Sunshine" gets started:
You asked me where I came from. I was born in Paris, in the shadow of Montmartre, but my mother soon moved me first to Brighton, on England's south coast, and then to London. I have no memories of Paris from when I was a baby, though I have visited that city more than a dozen times since. My mother's name is Michaela Olsen, and I am Daniel Clement Olsen. I don't know my father's name, and nor do I wish to.

I am a shade under six feet tall, light of build and with a knock-kneed, somewhat stooping deportment. I have been called scrawny, though my victims seem to find me good looking. I have wide, slightly flaring nostrils, fine shoulder-length hair the colour of barley water. My eyes are a watery blue.

I am a student of philosophy, though I am unlikely to ever gain my degree. If anyone asks me my age, I say twenty-six.