New Treasures: Alif the Unseen, by G. Willow Wilson
New Treasures: Alif the Unseen, by G. Willow Wilson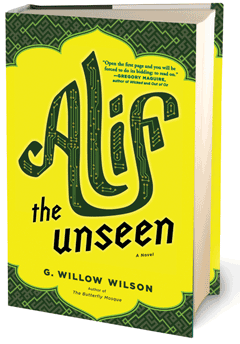 I've been sitting impatiently on this one for months. I got an advance review copy in March, and it looked great.
But publicists get a little grumpy if you spill the beans on a new release too soon before the official on-sale date, and since it's publicists — the finest people in the world — who send Black Gate fantasy books by the crateload every year, we like to keep them happy. So I kept my mouth shut.
The book in question is Alif the Unseen, the first novel by acclaimed comics writer  G. Willow Wilson (Cairo, Air). It officially went on sale July 3rd, and I am here to tell you about it. Let's start with the flap copy:
In an unnamed Middle Eastern security state, a young Arab-Indian hacker shields his clients — dissidents, outlaws, Islamists, and other watched groups — from surveillance and tries to stay out of trouble. He goes by Alif — the first letter of the Arabic alphabet, and a convenient handle to hide behind. The aristocratic woman Alif loves has jilted him for a prince chosen by her parents, and his computer has just been breached by the State's electronic security force, putting his clients and his own neck on the line. Then it turns out his lover's new fiancé is the "Hand of God," the head of State security, and his henchmen come after Alif, driving him underground. When Alif discovers The Thousand and One Days, the secret book of the jinn, which both he and the Hand suspect may unleash a new level of information technology, the stakes are raised and Alif must struggle for life or death, aided by forces seen and unseen.
Intrepid Black Gate investigative journalist Emily Mah has been writing a multi-part series on The Best of Modern Arabian Fantasy (in our Interview section), and this would fit right in. Alif the Unseen has received rave blurbs from some of America's most respected fantasy writers, including Neil Gaiman, Matt Ruff, Jack Womack, and Gregoor Maguire. Here's what Janet Maslin at The New York Times called it:
A Harry Potter-ish action adventure romance [that] unfolds against the backdrop of the Arab Spring… A bookload of wizardry and glee.
Alif the Unseen is 433 pages in hardcover from Grove Press. The cover price is $25 ($11.99 for the Kindle version), and you can read the first chapter online here.