New Treasures: Phil & Kaja Foglio's Girl Genius Omnibus Volume One
New Treasures: Phil & Kaja Foglio's Girl Genius Omnibus Volume One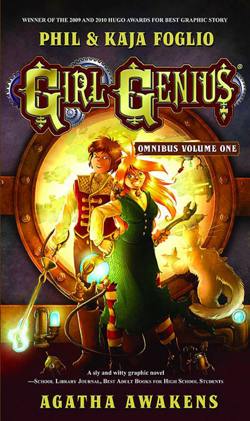 Girl Genius is one of my favorite comics. Or at least it would be, if my dang kids didn't stop stealing the issues and I could read them.
Now Tor has solved that problem nicely, with the publication of Girl Genius Omnibus Volume One: Agatha Awakens, a handsome 320-page full-color compilation of issues 1-10.
Which my kids immediately stole.
Until I find it again, I have to talk about it in the abstract. Like this: Girl Genius rocks. It's a "Gaslamp Fantasy" (don't call it steampunk) which follows the adventures of Agatha Heterodyne, a struggling student at Transylvania Polygnostic University who ends up on the run from the sinister Baron Klaus Wulfenbach. As she makes her way across the wasteland of a devastated Europe, she learns she comes from a family of Sparks — mad scientists with superhuman scientific gifts, and that her own gifts are just beginning to blossom.
I'm making liberal use of Wikipedia to fill in gaps here, owning to the missing issues stashed somewhere under my children's beds upstairs.
Suffice it to say that Girl Genius is a terrific all-ages comic (one hopes, anyway). It's fun, fast paced, and filled with lots of laugh-out-loud moments. Phil & Kaja Foglio make especially innovative use of color — the opening pages are black and white, and when color slowly seeps into the pages the effect is quite dramatic. Girl Genius began life in 2001 as a print comic, but became a full-fledged webcomic on April 18, 2005. In 2008 Phil Foglio was nominated for a Hugo award for Best Professional Artist for his work on Girl Genius, and in 2011 the strip won the Hugo Award for Best Graphic Story.
Girl Genius Omnibus Volume One: Agatha Awakens was published in hardcover by Tor Books on February 28, 2012. The cover price is $34.99 for 320 pages in full color.