Snarky Female Protagonists and Why I Read Them
Snarky Female Protagonists and Why I Read Them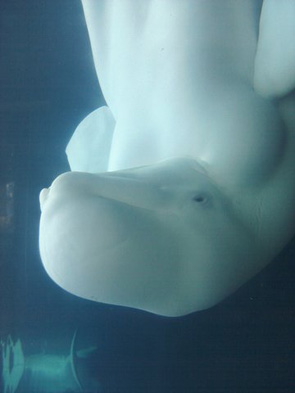 Dear Black Gate readers,
I don't even remember what my last post was. Mea culpa, mea culpa; I was moving across the country, I was getting a job with some Beluga whales, I was joining a writing group,  I was traveling to places I'd never been before, I was reading other people's fledgling novels and trying to come up with some kind — any kind! — of useful crit for them, I was writing up a storm.
(Several storms. Big magical brouhahas*, with silver clouds and dark lightning and dead swans and such.)
Woe is me, these things are hard, man! But enough of this moaning and groaning. I'm back now, see?  And I've been reading.
You know that thing that happens when suddenly you realize how busy you've been because you haven't picked up a book for the sheer pleasure of reading in a while? There are many joys in reading other people's early drafts of things that are going to turn into magnificently faboosh final drafts, but one of the downers is that when I'm doing that, I feel guilty reading anything for fun. And I'm a fast reader; I'm just a slow dang beta-reader.
However! Last week, I found myself at the Westerly Public Library, a place of golden beauty and polished staircases, browsing. Browsing, I tell you! Do you know how that felt?
Novel.
So I picked up three books I thought looked interesting, based on the backs and the first few sentences. Two happened to be contemporary urban fantasies by authors I've never read before. And one happened to be The Empress of Mars, by Kage Baker. I'd never read Kage Baker either, but I'd certainly heard of her.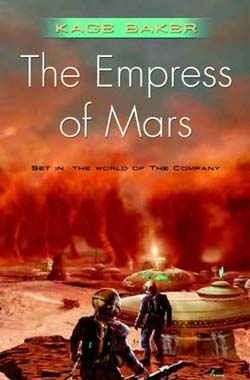 The Empress of Mars deserves its own post. I loved it so much. I recommend it to everybody. All of you. Go you forth and feast.
With the other two books I'll be more chary about my blanket recs. Dear Black Gate readers, these books may not be for you. In fact, they probably won't be. But I enjoyed them anyway and I'm going to talk about them.
The first was Shady Lady by Anne Aguirre. The second was Fate's Edge, by Ilona Andrews, who, I just learned, is a husband and wife writing team. Cool!
Shady Lady is from a series about Corine Solomon. She's a gal who touches things and infers something about them. Past, present, future. Danger, curses, charms. She runs, unsurprisingly, an antique curio shop in Mexico with her young friend Shannon. Or at least that's what I got in the first few pages before the curse hit the fan. That's right. Someone had dropped off a pair of silver salt-and-pepper shakers with a deadly hex on them, keyed to Corine personally!
First off, I should say that this book was the third in a series, and I've not read the first two. This actually never bothers me, although I know that kind of thing gives other people the heebs. Generally I've found in series it's quite easy to piece together what's come before. It sort of has to be, right?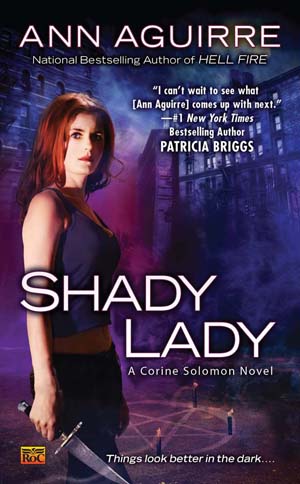 So into the shop bursts a holy warrior, and he's all tattooed and gorgeous and recognizable, and I get in the groove.
Aaaawwright! sez I. Sure he's got a head like a bullet and he's terse and gruff and laconic and even monosyllabic and all that, but heck, I can recognize an Angelic Love Interest from ten paces away. After all, I have read Sharon Shinn!
(Spoilers: not even an angel. A frikkin Nephilim! I've found the Nephilim to be a bunch of ginormous hotties ever since Madeleine L'Engle's Many Waters, although I really don't think she intended them that way.)
So, shenanigans ensue. There are flights from one city to another. Magical help is sought and given — for a price. There is blood-letting and blood-drinking and visions and dreams and hitmen. There is a sweaty, insect-heavy hike through a jungle. The protagonist wins, eventually, but probably besmirches her soul doing it. And she certainly loses not only Mr. Handsome Nephilim Man (but maybe he'll be back), and her best friend (not telling how, too sad, very Doctor Who, actually), and her boyfriend, she regains an old flame. So what? No sweat! I read it in a few hours. It was fun.
I think when I was younger, I'd've gone hunting for the first two books. And I still might, if the mood catches my fancy. Right now, I'm too interested in Caroline Stevermer's College of Magics. Oh, and I have another fledgling novel I've promised to read for a friend. Also, I'd probably hunt down the others in the Ilona Andrews series first.
Why?
Well, I'll tell you.
See, I like a good grifter tale. I've not read many of them, and they've all been con man + romantic comedy = screwball cuteness. Actually, if I ever met a real conman, I'd probably get that disgusting slimy feeling one gets in such situations and light out of there fast as I could. But a charming fiction I get behind for a few hours and admire his silver tongue? Sure. Especially when he's met his match in our magical lock-picking heroine, Audrey Callahan.
Fate's Edge made me laugh several times. It, too, is the third in a series about a place called The Edge, which recalls Windling's Bordertown series. It's a place between our world, which is called The Broken, and The Weird (kind of like Faerieland). All the misfits go there. And it's with misfits the story's concerned.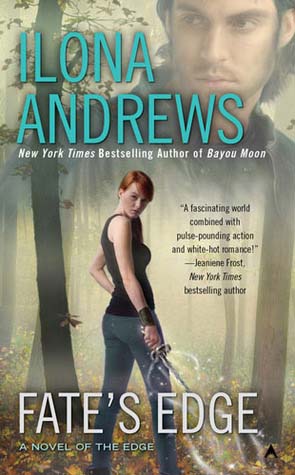 I think that while the banter between the grifter and the picklock charmed me, it was their two young tag-alongs that really won me over. They're brothers, both minors, the younger one wild and with a chip on his shoulder, the older who finds protection in a kind of glamorous urbanity. Both of them fiercely protective of each other. This was a coming-of-age novel for both of them. Of course, coming-of-age in urban fantasy these days is generally baptism-by-blood, but there you have it. By the end of the book, these kiddies were well on their way to being grown-ups. Also, they helped save a good chunk of the world, which has to be swell for a teenager's self-esteem.
As is often the way of these tales, the competent heroine is surrounded by men. She deals. There is also a lady supervillain, but she's sort of subordinate to her uncle's needs. And there are other women drifting into the narrative, but at the edges. I wanted more of them, of course.
From their small but powerful roles, you get that you're meeting the heroines of the previous novels. And I'm okay with that. I liked the feeling that all these heroines are somehow bonding, becoming family, will have each other's backs in some near-future. Maybe, someday, they will all form a League of Extraordinary Gentlewomen (or at least Edgewomen), where they find themselves in a plot that involves less centric romance and more butt-kicking. Maybe all the men get taken captive and they have to rescue them! Wouldn't that be a change?
By that time, all our heroines will be happily married — having played out their youth's courtships in earlier books — and will have energy to spare for said butt-kicking. Before the babies start coming along.
…Although it would be really funny to see a cranky, pregnant protagonist kicking butt and taking names and craving pickles.
Heck, I'd read it.
Oh, right. But the title of this post is Snarky Female Protagonists and Why I Read Them.
Well, first of all, I'd be snarky too with demons after me and sadistic supervillainesses blowing up my friends and more men and boys around than can be dealt with in a gentle, kindly, reasonable manner.
So, One: I can relate.
Two: Because I have a long lunch break. Not much more to it than that. It's so much FUN to have fun reading times. I read for other reasons too, but it's nice just to gobble up books like sweet, sweet avocados as well.
Three: Nephilim and conmen. I mean. Really. Mostly in real life I get to meet harassed-looking dads and grandpas taking their kids to see the Beluga whales. And who can blame them? But Nephilim make a nice change, dears, once in a while.
* Dictionary.com is so cool! Look where the word Brouhaha comes from! Etymology! I love it!