Alana Joli Abbott Reviews Grave Dance
Alana Joli Abbott Reviews Grave Dance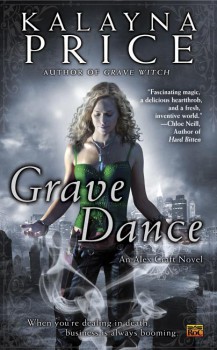 Grave Dance
Kalayna Price
Roc (pages 372, $7.99, mass market first edition July 2011)
Reviewed by Alana Joli Abbott
It is infrequent that I find myself reading a second novel in a series that utterly outstrips the first, especially when the first volume is highly enjoyable in its own right. So it was with delight that I flew through the pages of Grave Dance, Kalayna Price's second Alex Craft adventure. Set a month after the conclusion of Grave Witch, this mystery-come-urban fantasy starts in the middle of the action, with Alex, a magic-wielding private eye, investigating the mysterious appearance of a pile of dismembered left feet. Although a foot is not enough to allow her to raise the shades – the memories stored in dead bodies – that usually make her valuable as a consultant, she soon finds herself embroiled in a case being fought over by her city's mostly-human police force and the Fae Investigation Bureau.
The attention to the case brings another threat: the Queen of the Winter Court is rounding up all of the fae living in the mortal world who are not aligned with a court – Alex's friends among them. Add to that Alex's inheritance of an estate in Faerie, two very complicated love interests, monsters that appear to be hunting Alex down, and the enchantment of Alex's human best friend, and it seems like too much for one plot to handle. That Price manages all the twists and turns so deftly shows just how strong the novel is.
While the first novel occasionally fell into the habit of making info-dumps to describe the state of the world, the sequel never slips. World information is delivered through dialog or Alex's thoughts in a way that feels genuine rather than forced. And the world itself is a fascinating one: Alex has the ability to see multiple planes at one time, starting with grave sight, which superimposes the plane of death and decay on top of the living world. The descriptions of tattered clothing worn by the bright yellow souls, or the rotting floors Alex has to tread carefully, are fantastic. Descriptions of the chaos of the Aetheric plane – full of raw magical energy in swirls of color – and the beauty of Faerie are equally compelling. Alex is an appealing narrator who is often in over her head, but never gives up and takes risks that frequently pay off. Fans of the first novel are sure to be delighted – and be looking forward to the forthcoming Grave Memory. I certainly am!
__________
Alana Joli Abbott is a novelist, comic book writer, and contributor of role playing articles to Dungeons and Dragons Insider and short stories to anthologies including Haunted: 11 Tales of Ghostly Terror. She serves as a book reviewer for Publishers Weekly, School Library Journal, Flames Rising, and Kirkus Reviews. You can follow her latest adventures in writing and mythology chasing at www.virgilandbeatrice.com.