Goth Chick News: An Internet Head-Trip Brought to You by Shaun of the Dead Creator Edgar Wright
Goth Chick News: An Internet Head-Trip Brought to You by Shaun of the Dead Creator Edgar Wright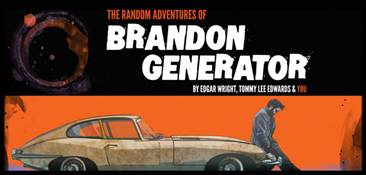 Two versions of Snow White, TV sitcoms remade for the big screen and (stop me before I hurt myself) the re-release of Titanic…
Think there's no originality left in Hollywood?
Microsoft apparently agrees with us but is thankfully smart enough not to try and fix it themselves.
Instead they enlisted the talents of Shaun of the Dead director Edgar Wright and Marvel and Lucasfilm illustrator Tommy Lee Edwards (famous for his work on the Batman and Hellboy comics) to create a very cool entertainment concept in the form of an interactive animated story called The Random Adventures of Brandon Generator, launched April 12th.
Think of it as a Choose Your Own Adventure story for the multi-media generation.
Visitors to the site will get a seven-minute video that explains the story of our hero Brandon Generator, who is having severe writer's block.  One dark night after too much coffee, Brandon wakes from his caffeine-induced blackout to discover prose, sketches and ideas on his Dictaphone that he did not remember leaving.
And you get to provide one or all of those elements.
Now I'm about to take a huge leap, but just in case: a "Dictaphone" is a small cassette recorder used to record speech for transcription at a later time.  Click here for a definition of "cassette recorder."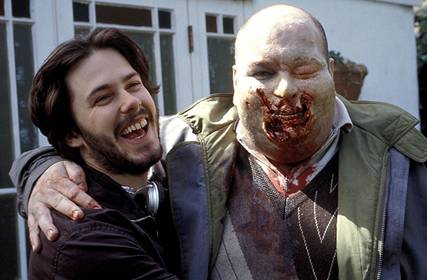 Following the video the visitor is able to explore Brandon's apartment, a little like in an adventure game.  Clicking on different items will allow you to submit words, images and voice that — once moderated, and don't think they won't — will appear in a gallery on the web. The best ideas will be used to continue the story from that point.
The Random Adventures will be split into four episodes, released every few weeks until the end of June 2012.  Edgar Wright explains:
I'd never written a comic before and the idea of collaborating with Tommy appealed to me.  And so, I came up with an interactive idea where you, the public, can help inspire or interfere with our main character by literally putting ideas in his head.

I think young filmmakers today have more opportunities than ever. You can make a movie, do the effects in your bedroom and have it seen around the world in a matter of hours on YouTube or Vimeo. It's pretty astounding.  Hollywood careers have been made on zero-budget shorts on the net, so you really have no excuse. I started with no industry connections and we had zero money in our family, so I am a big believer in sheer determination to achieve your ambitions.
Soundtracked by David Holmes' latest musical project, Unloved, and narrated by British comedian Julian Barratt, Wright described the rich, multi-media experience as "somewhere between a motion comic, an animated short and a little internet head trip."
Gird your loins; we may just be witnessing the birth of something truly unique in the entertainment industry.  Let's hope it catches on.
Have a question or comment?  Post it here or drop a line to sue@blackgate.com