Lost Classics of Pulp: Judex
Lost Classics of Pulp: Judex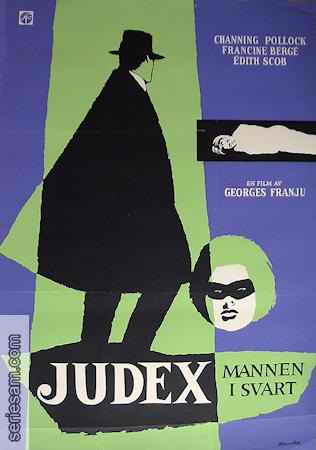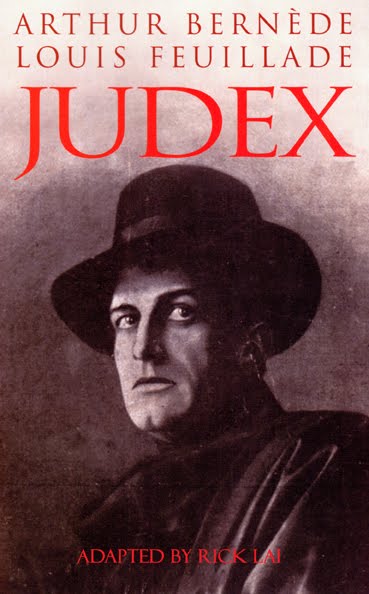 Pioneering silent film director, Louis Feuillade rose to prominence with his stylish 1913 serial, Fantomas which faithfully adapted five of Pierre Souvestre and Marcel Allain's bestselling pulp thrillers. Feuillade next succeeded in fashioning an enthralling original story based around the Apache street gang which figured prominently in the Fantomas series. Les Vampires are led by the vampish Irma Vep, played by the exotic Musidora (France's answer to Theda Bara). The 1915 serial was hugely successful and was a highly influential work in its day. Feuillade was tasked with the challenge of trying to follow up these two successes with a third commercial property.
Responding to the criticism that his films glorified crime and violence, Feuillade turned to author and playwright Arthur Bernede for help. Together they crafted a pulp vigilante dressed in a dark cloak with his face partially obscured by a slouch hat. Judex, Latin for "judge," fought crime with his loyal brother, Roger and a menagerie of amazing beasts and an assortment of colorful companions by his side. These and Judex's gadget-filled secret lair and private plane had a tremendous influence on the burgeoning pulp fiction market in England and America.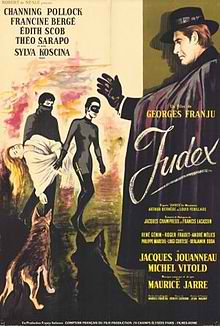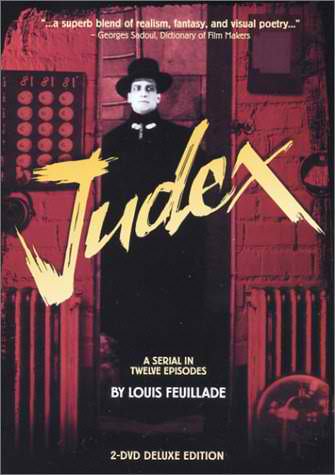 The influence on The Shadow is obvious, but the band of strangely gifted companions likely inspired both Bulldog Drummond and Doc Savage as well. Rene Creste (France's answer to Rudolph Valentino) essayed the memorable title role in the serial. Irma Vep of Les Vampires is the clear inspiration for Judex's vampish enemy, Diana Monti and quite likely inspired Bulldog Drummond's vampish enemy, Irma Peterson. Musidora played both Irma Vep and Diana Monti in the Feuillade serials. Miss Monti is the fiancée of Judex's archenemy, Favraux while Irma Peterson is the wife of Bulldog Drummond's archenemy, Carl Peterson. As always, half the fun of pulp fiction of the first half of the last century is spotting the influences that thread their way through the narratives.
What sets Judex apart from Feuillade's earlier pulp serials is that Bernede's story is explicitly class-conscious. Judex hinges on the evil machinations of the unscrupulous banker, Favraux who ruins countless lives in his unending efforts to satisfy his insatiable greed for wealth and power. As a character, Judex is a vigilante determined to avenge the abuses of runaway capitalism. Lest the unfamiliar reader mistake him for a latter-day Robin Hood, it should be noted that Judex meting out his particular brand of justice is more akin to darker pulp anti-heroes such as The Spider and The Shadow, in that he is not above poisoning his enemies or walling them up alive in a fashion that Edgar Allan Poe would certainly have recognized.
The other unique component of Judex is the fashion in which Diana Monti's wanton lust is sharply contrasted with the noble chasteness exemplified by Favraux's virtuous daughter, Jacqueline, a widow raising a young son as a single mother. This uncharacteristic portrayal of the virtuous young single mother is exemplified in the way that she denies herself not only sexual companionship but sacrifices all of her father's wealth and her earthly belongings, choosing instead to live a life of poverty once she learns that her father's riches are stained with the blood of those he has ruined. This is the heart of the moral judgment on capitalism and hedonism that Judex expresses. A social critique that is unique in its era for its overt portrayal.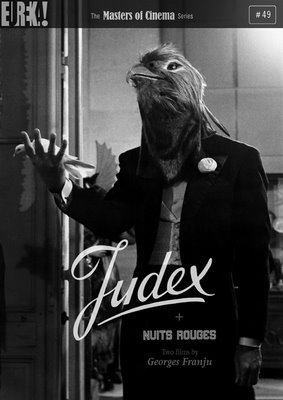 The success of Feuillade's serial and Bernede's tie-in novel inspired an immediate sequel, The New Mission of Judex which Feuillade and Bernede turned into another successful serial and book in 1918. Judex became a staple of French popular culture. A talkie remake in 1934 was directed by Feuillade's son-in-law, Maurice Champreux while the later George Franju remake released in 1964 was scripted by Feuillade's grandson, Jacques Champreux. The similarity between Judex and The Shadow was not lost on French readers. When the latter's adventures were translated in French, the character was re-named Judex for purposes of reader recognition, further muddying the waters between Bernede's original and his American doppelganger.
Renowned pulp historian and respected pulp fiction author, Rick Lai recently completed the first English language translation of Bernede's novel. Judex was recently published by Black Coat Press and is highly recommended for those who embrace pulp fiction's roots or curious film students who noted the classic posters for the Feuillade serials prominently displayed in Martin Scorcese's Oscar-winning film, Hugo last year. Best of all Lai has ambitions to likewise translate The New Mission of Judex at a later date. Randy Lofficier is currently hard at work on a translation of Bernede's other pulp classic, Belphegor for publication by Black Coat Press within the next year. It is an excellent time for pulp fans or serious students of film history to learn more about the works of Louis Feuillade and the fiction of Arthur Bernede and Pierre Souvestre & Marcel Allain that did so much to shape contemporary pop culture. As audiences flock to The Dark Knight Rises later this summer, it would be instructive to learn the roots for the entertainment that has retained its appeal for a century now for audiences hungry to find justice in an unjust world.
---
William Patrick Maynard was authorized to continue Sax Rohmer's Fu Manchu thrillers beginning with The Terror of Fu Manchu (2009; Black Coat Press). A sequel, The Destiny of Fu Manchu was published April 2 by Black Coat Press. Also forthcoming is a collection of short stories featuring an original Edwardian detective, The Occult Case Book of Shankar Hardwicke and an original hardboiled detective novel, Lawhead. To see additional articles by William, visit his blog at SetiSays.blogspot.com