Blogging Alex Raymond's Flash Gordon, Part Twenty – "Battle for Tropica"
Blogging Alex Raymond's Flash Gordon, Part Twenty – "Battle for Tropica"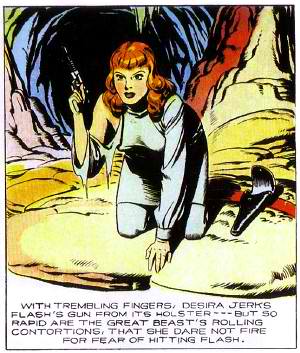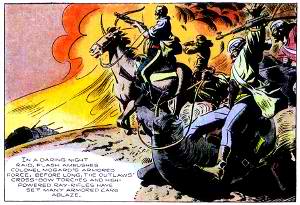 "Battle for Tropica" was the twentieth installment of Alex Raymond's Flash Gordon Sunday comic strip serial for King Features Syndicate. Originally published between July 18, 1943 and February 6, 1944, "Battle for Tropica" marks the final installment to be completely illustrated by the character's creator, Alex Raymond. The storyline picks up where the preceding installment, "Fiery Desert of Mongo" left off with the roguish desert chieftain Gundar pledging to aid Flash in restoring Desira to the throne of Tropica. Desira is reluctant to trust the outlaw chief, but Gundar makes it known that he has aspirations of becoming the Queen's royal consort for his troubles. Meantime, Gundar's discarded queen, Pequit vows to make sure that Gundar never reach the throne of Tropica.
The group makes a daring nighttime raid on the city of Placida. Zarkov seizes the communications center while Gundar takes the sentries by surprise and informs them that their lives will be spared if they recognize Desira as their Queen. The Mayor of Placida kneels before the Queen and Flash is elated that the first city has fallen without a drop of blood being spilled. The important point, that Don Moore's script never makes clear, is that the people of Tropica are beginning to learn that the Queen is not an imposter and Brazor is a traitorous usurper. Sentries later inform Flash that Brazor's aide, Colonel Mogard is leading a fleet of tanks to Placida. Flash has Gundar's men abandon the city to draw them away, but Mogard gives the order to raze the city to send a message to all who would remain loyal to the deposed Queen.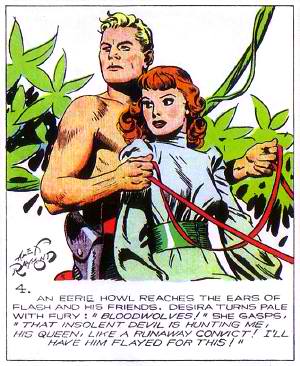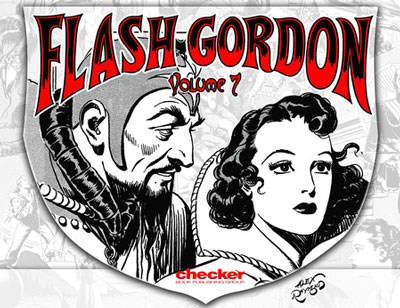 The Mayor of Placida is among the survivors who fled the city while it burned. They act as saboteurs and force Mogard's men to cross the river by pontoon after they disable the bridge. Flash, Gundar, and Desira lead the desert raiders in a guerilla attack on the fleet. Their superior number overwhelms them and Mogard retreats. Flash and Gundar take possession of several abandoned tanks and happily welcome captured prisoners of war into their ranks once they swear allegiance to the Queen.
Meantime, Pequit and the captive Brazor begin an affair with Brazor promising to make the spurned woman his Queen if she helps him escape and aids him in abducting Desira. The deposed Queen reaches her former subjects by radio waves at a captured communications centre and broadcasts to all of Tropica that the rightful Queen has returned. Meantime, Pequit helps Brazor escape in the middle of the night, killing his sentry in the process. Together they steal into Desira's bedroom and chloroform the Queen, hiding her in the laundry basket. They make good their escape in the morning when Pequit convinces Lieutenant Konal to let her borrow an amphicar to take the Queen's laundry to the city. Flash and Gundar find the Queen missing and her sentry murdered. A furious Gundar strikes Konal for being duped by Pequit's scheme.
A lengthy day-long chase through the forests of Tropica follows with Gundar and Flash's amphicar in close pursuit. There is a daring gun battle on the river where Flash and Gundar are forced to abandon their sinking amphicar. Flash is shot and seriously wounded by Brazor. Desira, having recovered consciousness, throws herself from Brazor's amphicar into the water, though bound and gagged. Gundar rescues her, but he and the Queen are quickly captured by Brazor. A sea serpent and a water worm engage in a titanic struggle over Flash's bleeding body. Our hero escapes thanks to a timely rescue by Dale and Lieutenant Konal who arrive in their own amphicar. The water worm encircles their amphicar and drags them below the water, but thanks to Dale's clear thinking they are able to escape and overcome the creature. Konal performs artificial respiration on Flash who is barely alive. It seems strange that Raymond avoids having Dale administer the life-saving, particularly since he recently milked a similar scene with Flash and Desira for all of its erotic worth.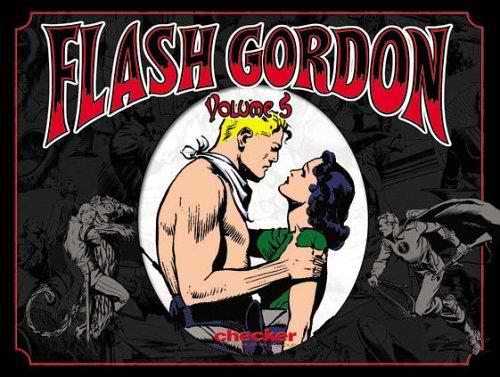 Flash recovers and they set off on Brazor's trail. Brazor dumps Gundar's body in the river to throw Flash off. Though injured from his gunshot wound, Flash bravely rescues Gundar from falling prey to the encircling whip-hawks. Gundar is shocked to see Konal, but realizing that the Lieutenant has redeemed himself, he quickly promotes him to Captain. Unfortunately, Brazor has made it back to the capitol and has his men lying in wait in the forest for Flash's amphicar. Flash and Dale continue on foot while Gundar and Konal return to Desira's outpost where they hold a council of war with Zarkov. Flash and Dale befriend a bitter old woman, Tartara and her son, Timor (whose timidity stems from having been tortured in Brazor's dungeon). Timor's emasculation is evidenced by his wearing a skirt and appearing bare-legged while quaking with fear at his elderly mother's decision to aid the rebels hoping to restore Desira to the throne. The storyline ends with Tartara and Timor accompanying a disguised Flash and Dale as they infiltrate the capitol in an attempt to rescue Desira.
So ends Alex Raymond's last complete storyline. Sadly, his artwork throughout appears rushed and lacks the grace, charm, and beauty of his classic work on the strip. He had begun to rely more and more on his understudy, Austin Briggs, who was already providing the artwork for the daily strip (Don Moore's scripts for the daily were a separate continuity from the Sunday strip) since it debuted in 1940. Briggs would complete the concluding Tropica storyline after Raymond went off to serve in the Second World War. The first Sunday storyline that Briggs provided all of the artwork for, "Marvela" was the final story co-plotted by Alex Raymond. We will cover the two remaining Alex Raymond-related strips over the next two weeks of the column as we conclude our look at Alex Raymond's Flash Gordon.
---
William Patrick Maynard was authorized to continue Sax Rohmer's Fu Manchu thrillers beginning with The Terror of Fu Manchu (2009; Black Coat Press). A sequel, The Destiny of Fu Manchu will be published in April by Black Coat Press. Also forthcoming is a collection of short stories featuring an original Edwardian detective, The Occult Case Book of Shankar Hardwicke and an original hardboiled detective novel, Lawhead. To see additional articles by William, visit his blog at SetiSays.blogspot.com