Goth Chick News: When Goth Chicks Attack
Goth Chick News: When Goth Chicks Attack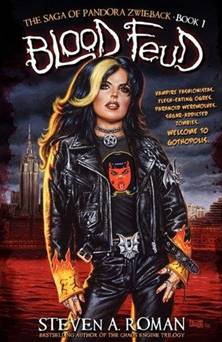 Vampire Fashionistas, Flesh-Eating Ogres, Paranoid Werewolves and Sugar-Addicted Zombies…
Welcome to Gothopolis.
As I stare at the cover of Blood Feud: The Saga of Pandora Zwieback, Book 1 which was just delivered by the spotty intern handling the Black Gate mailroom this semester, several thoughts are competing for top billing; like "Where is this 'Gothopolis'?" and "Someone get my travel agent on the horn," and "Would Steven Roman mind if I developed a crush on him?"
Finally, someone who understands…
The cover of this magnificent work of art is reminiscent of looking in a mirror. Okay, not so much. But still I'm mesmerized. Is this really a novel about a zombie shooting, werewolf booting Goth chick?
It looks too good to be true really.
So I fire up the blender and with fine adult beverage in hand, I climb into my comfy chair (the big leather one just under the life-size stand up of Bela Lugosi) to have a nice, long, get-to-know-you session with Pandora Zwieback.
Now you may assume that is was simply the cover art and the promise of a story with a Goth chick heroine that ultimately got me, but you'd be wrong.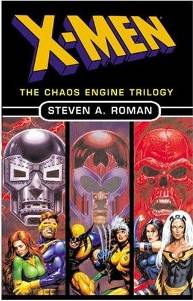 Actually it was the first chapter that got me; and then the next, and then the next…
In the name of full disclosure, I'm just short of halfway through Blood Feud's 310 pages but I'm as close as I ever get to "giddy," so I'm jumping the gun to tell you about it now, before I'm done. Mainly because I doubt a story as good as this one could have an ending that sucked.
Admittedly, I was skeptical of Steven Roman's cred when it came to writing a tale with this particular type of main character.
If his name sounds familiar it may be because up to now he was responsible for highly successful, but mainly fan-boy facing fare such as X-Men: The Chaos Engine Trilogy and Final Destination: Dead Man's Hand, as well as appearing in anthologies such as Untold Tales of Spider-Man and Dr. Who: Short Trips.
I'm not knocking Roman's horror chops. He's written quite a lot about zombies in particular.
But when you're a guy taking on the persona of a sixteen-year-old Goth girl and aiming your story at a young adult audience, you're now taking on a whole new level of imagination.
Yes, you read that right; "young adult audience."
Just remember, Harry Potter also sits in the "YA" section of the bookstore and that didn't stop you, or me or anyone else for that matter.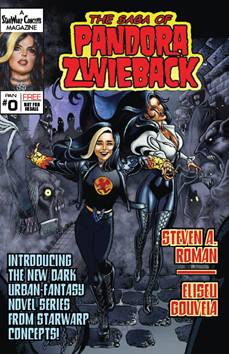 And though the Mauser-toting dude's dudes that hang around Black Gate may be forced to hide Blood Feud in the "Oh that? It belongs to my girlfriend" category (right next to the Twilight trilogy), it's got more than enough undead butt-kicking to keep you entertained.
Pandora Zwieback is a Queens, NY Goth girl dealing with two major life-changing problems: her parents' divorce and a frightening ability to see through the human guises of the vampires, werewolves, and other creatures that have always been living in the world.
Helping "Pan" come to terms with both issues is Sebastienne Mazarin, a 400-year-old, shape-shifting monster hunter she befriends (Sebastienne is where you adult boys can get interested without feeling creepy, but girls can love it shamelessly end to end).
Together, the women set out to protect the world from the monsters threatening it with a war among rival vampire clans who are seeking the key to an ultimate weapon.
The thing that's so great about crossover books, and in particular Blood Feud, is that there's enough action and cerebral humor to entertain an adult while employing fast-paced and engaging characters spouting edgy, almost-inappropriate dialog aimed at keeping a firm grip on the hormone-addled attention span.
At the very least go buy it, read it carefully as not to crease the binding, then pass it along to your neighbors' teenaged daughter if you must. It's a win-win all round.
But in the end Steven Roman gets it. He understands that the men of Black Gate may still not be convinced and he's made provisions for it.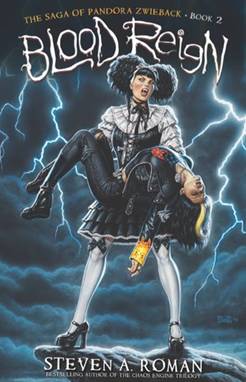 Blood Feud is also a comic. And double bonus; it's available online.
The really charming thing about that is though the illustrations may look tame, the dialog not so much (that sample page shown here has someone calling Pandora Zwieback a "attention whore."
Blood Feud the novel is available now at Amazon and the comic is available for free at Roman's website which is an adventure all on its own. And he's already teeing up the sequel, Blood Reign coming soon.
The project might be a dark-fantasy series instead of a superhero adventure, but Roman assures fans familiar with his X-Men novels that there's something for them as well.
Just like The Chaos Engine Trilogy, Pan's story has action, it's got romance and humor, and it's got the thing I'm most known for: multilayered characterization. So, come for the monster hunting, stay for the widespread destruction and the oddball characters 'cause if you've read my stuff you know I never write about normal people.
"Oddball characters…?"
What exactly are you saying Steven?
Have something to say? Don't be shy. Post a comment or drop me a line at sue@blackgate.com.