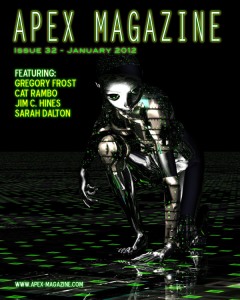 This month's Apex Magazine features new fiction from Cat Rambo ("So Glad We Had This Time Together") and Sarah Dalton ("Sweetheart Showdown"), as well as a reprint of "The Prowl"  by Gregory Frost, who is also the featured interview. Stephan Segal provides the cover art and John Hines discusses "Writing About Rape."
This and more of the Lynne M. Thomas edited on-line publication can be found here.
In other news, this is the time of year where"Best of" lists proliferate; I tend not to bother if only because I doubt anyone cares (and for those who might care, I just don't want to get into an argument about why I didn't pick the books they think should be on my list). I do find it interesting that three of the Top 5 fiction books selected by The New York Times contain elements of fantasy. Two are literary fabulism  (meaning no elves, dwarves or heroic quests) that doesn't get shelved in genre.  I haven't read Swamplandia! by Karen Russel yet, though I heartily recommend The Tiger's Wife by Tea Obreht, which employs motifs of Eastern European folklore to recount a doctor's reconstruction of her grandfather's life in a country obviously modeled on war-torn Yugoslavia.
The third is clearly genre, 11/22/63, a time travel story by the literal king of of genre, Stephen King (and which also made other best of lists). I was a little surprised by this, as King is usually considered lowbrow by book critics.  This may be a case of being around long enough that you finally get some respectability, the sort of grudging acknowledgement that Ray Bradbury and Kurt Vonnegut earned later in their careers (though at that point their "rehabilitated" reputations rested primarily on work produced early in their careers). But it has to be more than tenure, as this same respect hasn't been accorded to other widely popular genre writers who've been around such as Robert Ludlum (who continues to write from the grave) or Nora Roberts, or even the dreaded Dan Brown.  Maybe this is because these writers are formulaic hacks (caveat: I haven't read Ludlum or Roberts, so I'm just assuming from their reputations that they are, which I concede is unfair of me, though I have read Brown who is, albeit mildly entertaining).  So perhaps King has worked hard enough, and well enough, that being popular is no longer a drawback, at least from the viewpoint of the literary sophisticates?