Review: Kobo eReader Touch
Review: Kobo eReader Touch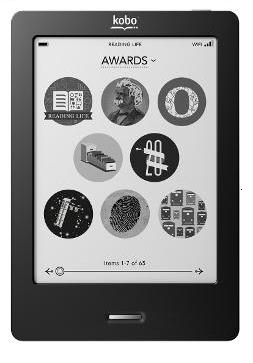 This may be going a bit far afield, but since most Black Gate readers are, well, readers, I suspect it will be of interest to many here.
While I am a big advocate of eReaders and digital books, I have avoided eReading devices in the past because they haven't offered any significant upgrade over reading on my smartphone, at least not without imposing significant costs.
I started with reading .pdb books on various Palm Treos, then enjoyed a significant graphical upgrade to reading .epub books on an Android phone. This works quite well and I still do the vast majority of my reading that way since whether I am out and about or at home, my phone is always handy.
And, since it emits light, it permits reading in the dark, which is an advantage for anyone who customarily goes to sleep later than the bed's other occupant.

I avoided the Amazon Kindle and its successors for much the same reason I don't use Apple products. I don't like being fenced into a corporation's walled garden, no matter how nice it happens to be. This isn't to criticize the mindless technology illiterates who cheerfully submit to technofascist abuse, crippled hardware, and corporate data-mining due to being blinded by the shiny, it is merely a personal preference for open software formats that permit me to do whatever I want with my data without the permission of Jeff Bezos or Steve Jobs. So, I have been waiting for literally years for a simple, straightforward eReader that has long battery life, a good display, utilizes standard formats, and is affordable enough that it won't be too painful a loss if it ends up being left behind in an airplane one day.
The Kobo eReader Touch meets these specifications quite well. It is a very light and attractive little device, the screen is perfectly readable, has a wide range of adjustable fonts, font sizes, and margin settings, primarily makes use of the standard EPUB format, and permits the easy downloading of books from the Internet store via the wireless connection or transfer over USB to and from the PC or Macintosh. The screen refresh rate is customizable, but I haven't had any problem with the default setting of one new refresh every six pages. (E-ink screens will gradually exhibit what old computer gamers may remember as screen burn until the screen is refreshed; delaying refresh extends battery life.) The battery life is reported at a month, is certainly good for several books without recharging, and books can even be downloaded from various libraries if you install Adobe Digital Edition (a free download that requires registration) on your computer. The touch technology is fine, it's not as responsive as an iPad, but is perfectly suitable for turning pages and selecting books. You're not going to be doing any finger-painting or playing games on the Kobo anyhow.
Supported formats are: EPUB, PDF and MOBI format eBooks; JPEG, GIF, PNG, BMP and TIFF image files; TXT, HTML and RTF files; CBZ and CBR comic book formats. The retail price is $129.99 and it comes in four colors, black, pink, royal blue, or silver-grey. It has one GB of storage memory as well as a microSD slot in case having around 1,000 books on hand isn't enough.
The two downsides I have discovered to date both relate to the device software. First, one can't use the wireless connection to pull book files from your computer. This isn't a big deal, since you'll probably be using the USB to charge it from your computer anyhow, but it is a little disappointing. Much more problematic is the way it handles PDF books. While the Kobo fully supports PDF format, its screen size is a little too small to read the average book in PDF format. It's close, however, as zooming in so that only the text of the book, and not the full page, is showing does make the PDF readable on the device. Which leads us to the problem… as far as I can tell, it's not possible to turn pages in a zoomed-in PDF book. Until Kobo does something about this, it will render PDF reading all but impossible. Fortunately, this is something that should be fixable in the next update of the device firmware.
If you're in the market for an inexpensive eReader that is focused on reading books rather than bells and whistles, you will likely be very satisfied with the Kobo eReader Touch.