IT'S ONLY PULP: A Fair and Balanced Review of CONAN THE BARBARIAN (2011)
IT'S ONLY PULP: A Fair and Balanced Review of CONAN THE BARBARIAN (2011)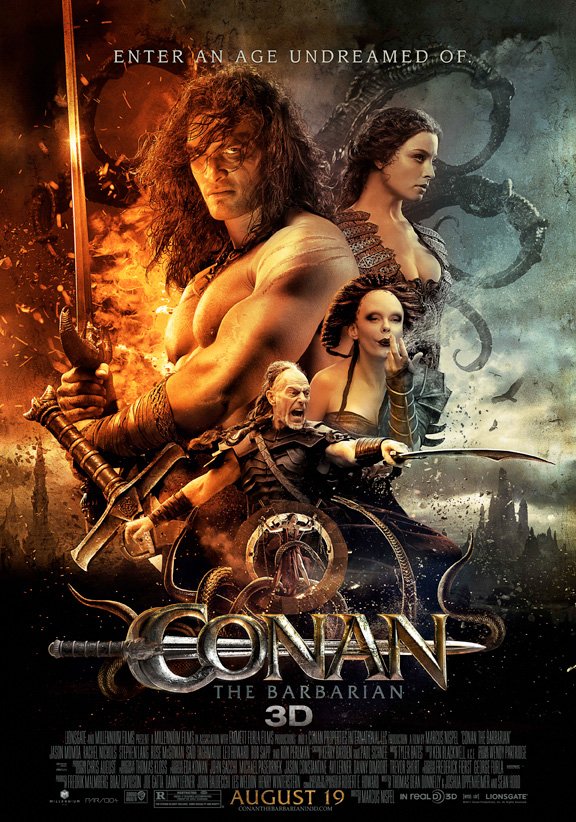 Friends, Bloggers, Conan Fans, lend me your ears! I come not to defend the new CONAN movie, but to present an informal overview that examines what works and what doesn't work. To begin, I've seen a lot better movies … and I've seen a LOT worse movies.
First, let's consider the source: Robert E. Howard is a largely respected fantasy author by today's standards. However, that was not the case in the 20s and 30s when he was publishing his lurid pulp adventure stories in WEIRD TALES and similar pulp magazines of the time. In Howard's day, pulp fiction was considered "trash," and it was treated accordingly. Sex and violence were common ingredients in a good pulp tale, and Howard's work is definitely full of both. However, what was considered obscene in the Pulp Era seems rather tame compared to the graphic sex and violence we see in today's media. You can look at this in two ways: Either we as a society have gotten less uptight about certain subjects, or we have become a more depraved society. It's all a matter of perspective. And as many philosphers will tell you, perspective is reality.
The new CONAN THE BARBARIAN film isn't exactly a remake, but it does borrow its revenge motif from the original (and superior) John Milius CONAN film from 1982. That was NOT a Howard plot point. The Conan of Howard's tales is not pursuing vengeance for his slain father, his slain mother, or his slain village. However, he would certainly have not been above bringing bloody and thunderous vengeance to anybody who wronged him. It simply was not his driving ambition, as it is in the movies.
Before I talk about the movie's failings, let me first say what works about it: The visuals. Marcus Nispel's CONAN THE BARBARIAN is a visual triumph. The Hyborian Age has never looked so wondrous, splendid, and believable on screen. From the virgin wilderness and Cimmerian villages to the decadent, sprawling cities, the vast monastaries, and the ancient citadels with skull-shaped caves, the movie simply looks fantastic. The costuming too is spot-on and suitably grimy, evocative, and well-designed. Same goes for the props: swords, spears, armor, ships, etc.
It all LOOKS fantastic. But looks aren't everything…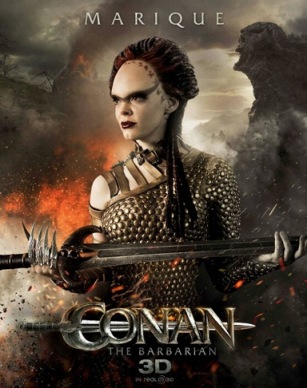 The casting is right on the money as well. Rose McGowan steals the show as the wicked sorceress Marique. She's dangerous, sexy, and completely psychopathic. Her obsessed father Khalar Zym is played with suitable menace by Stephen Lang. Jason Momoa makes a great "young Conan"–he's far less grim than the Arnold Schwarzenegger version. But that's to be expected: Arnold's Conan spent his adolescent as a slave and a gladiator. But Momoa's Conan avoided that fate. Instead, a voice-over by Morgan Freeman tells us that he's been roaming Hyboria for many years thieving, reaving, and slaying. This is more in line with Howard's description of Conan's youth.
There is a direct reference in the movie to Howard's "Tower of the Elephant" story, when one character praises Conan for his role in defeating the wizard Yara and bringing down that infamous tower in Zamora. It's a nice "shout-out" to Howard fans. Momoa gives us the youthful, carousing, wenching, headstrong Conan, not the older, wiser Conan that we see in most of Howard's stories. And despite the questionable morality of all the killing he does, Conan is a man who stands up for the underdog, frees slaves when he encounters them, and is fearlessly loyal to his friends and allies.
Unfortunately, the visuals and the casting are the best qualities of this movie. The script and plot are basically Dungeons and Dragons cliches using Howard's place names and concepts. However pleased I was to see Howard's "purple-towered Acheron" used as a background for the story, the whole plot to assemble the pieces of a broken relic of necromantic power is a pretty old-hat fantasy stock plot. It works well as a motivation for the two villains, Zym and Marique, but other than that it's sheer cliche of the dice-rolling variety.
This is my biggest problem with the movie: It's lack of reaching for something more original in plot and story. Instead of lifting from one of Howard's many great tales, the writers slapped together a string of fantasy-adventure cliches. The result is a typical "origin story" movie that serves only to set up further installments. I've felt the same way about many of today's "comic book movies" — many of them are nothing but repeats of origins we've seen a dozen times or more. I hope that any Conan sequels bring on some writers who either draw directly from Howard's plots or try a bit harder to bring something original to the story.
A common complaint among the movie's critics is that the actions scenes are too chaotic and messy. I have to agree. However, I'd rather see quick, chaotic scenes than slow-motion "Matrix"-style fights. At least that's one cliche the movie (mostly) avoids. I don't agree with the critics who say there were simply too many fight scenes. This is CONAN, after all! However, I'd rather see less fight scenes done well than more fight scenes done in slapdash, confusing fashion. Perhaps the problem lies solely with the editing of these scenes, but the fight choreography is largely lost by the time these scenes reach the viewer.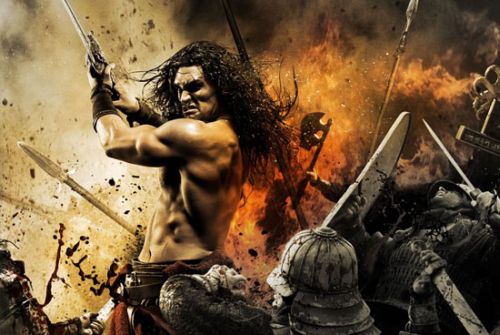 For anybody who complains about the movie having too much blood, sex, and violence, you're missing the point. This is  CONAN THE BARBARIAN, a pulp action hero. So criticizing these elements–which are essentially the bread and butter of any pulp hero–is ludicrous. If you are a person who does not like ultraviolence and lurid sexual situations, stay well away from anything that has to do with Conan. (Except maybe the horrid Saturday morning cartoon from a couple decades back. That's what you get when you take sex and violence out of the Conan property. Ugh.)
There are three cringe-worthy moments in the film for me: 1) When Conan's father holds his newborn son up to the sky (during a battle) and screams pointlessly. 2) When Young Conan holds up a sword in front of his burning village and screams pointlessly. 3) When Conan at the end of the movie, standing by his father's grave, holds up his sword yet again and screams pointlessly. These three moments were almost embarassingly cliche and unneccessary.
So, is the new CONAN worth seeing? Only if you don't expect it to be a Work Of Art. Only if you are content to enjoy the visceral thrills of pulp fiction at its most lurid and blood-soaked. And only if you don't expect anything new from the filmmakers, other than a really fantastic looking fantasy world.
Personally, I recommend it for the visuals alone. As someone who has loved the Hyborian Age since I was a wee lad, it's great to see it brought to life with such precision and beauty. I only wish the script had lived up to the pretty pictures.
If there's a sequel (and there probably will be), let's hope Quentin Tarantino gets together with George R. R. Martin and slaps together something that will really offend, surprise, and delight Conan fans.
Until then, there's always the original stories to read and re-read.
Final Thought: John Milius' CONAN THE BARBARIAN from 1982 still holds the distinction of being the very best Conan film. However, this new version by Marcus Nispel is light years ahead of the cinematic abortion that was 1984's CONAN THE DESTROYER. I'm still trying to forget that one…