The Prînce of Nöthing Review
The Prînce of Nöthing Review
About twenty years ago, I was at a used bookstore and I picked up what looked like an interesting medieval spin on James Bond. It was set during the period of the Crusades, but appeared to be conceived as an action-thriller series rather like The Executioner, Mack Bolan. I started reading it, but around page 30, when the slave girl sent by Saladin to spy on the Crusaders was in full throat enjoying her third rape at the hands of her captors, I suddenly realized that the book was not a historical novel but rather one of those strange 70's porn novels with a thin veneer of historical fiction.
A little research indicates that the book was probably the fifth book in the Crusader series, Saladin's Spy (1986), written by an author very familiar to Black Gate readers, although he published it under the pen name "John Cleve" rather than Andrew J. Offutt. I hadn't thought about that book for years, until I was casting about for a way to explain the epic fantasy of R. Scott Bakker's series entitled The Prince of Nothing.

Bakker, like Joe Abercrombie, is often compared to George R.R. Martin, but except for the fact that both men happen to write oversized fantasies, there is almost nothing in common between the two authors. Whereas Martin's world is readily accessible, full of characters that are personable even when they engage in reprehensible actions, Bakker's is a bizarre pastiche of unpronounceable names, thinly disguised references to philosophers, and quests that are hidden from the reader as well as nearly all of the characters. While Bakker does, like Martin, write "adult fantasy" that contains both erotic and violent content, Bakker goes Martin one step better in pushing the "artistic" boundaries; whereas Martin is usually content to settle for incest, implied homosexuality, and however one wishes to describe the wedding scene in A Dance with Dragons when Reek "prepares" Ramsey Bolton's bride, Bakker prefers to go in for outright rape. Men get raped, women get raped, little children get raped, and when someone isn't getting raped, then the beautiful prostitute with a heart of gold, who is also extremely clever and idolized by the soldiery, is having sex with someone. Or, as the case may be, something.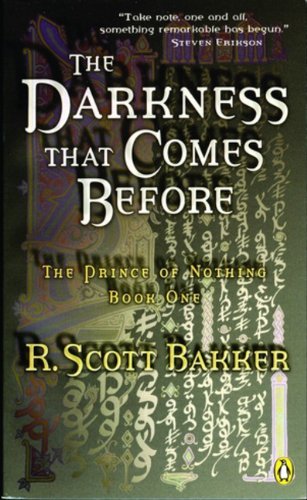 "More blood. More titties." This is clearly more than just a philosophical creed for Bakker, it is quite evidently his raison d'écriture. Which is fine, if you like that sort of thing. It just strikes me as less of an advance in the state of epic fantasy literature than it does a mainstreaming of the sort of porn that "John Cleve" was publishing 30 years ago. The crusader theme is far from the only similarity between Cleve's kitsch and Bakker's epic. The problem is that to a generation that has seen Saw turned into an amusement park ride, the killer rapes of the abomination Xurjranc and his GWAR-like appendage borders on the comedic and is arguably less "shocking" and "transgressive" than the lethal catapulting of the much-penetrated slave girl would have been to readers raised on Halloween and The Nightmare on Elm Street. This is a pity, because underneath the juvenile desire to shock and the apparent porn obsession is a pretty interesting writer with an impressive talent for world-building and mystic horror.
Bakker is a more intellectual writer than either Martin or Abercrombie. The interplay between the various schools of sorcery were some of the most interesting aspects of the three books and the palpable fear that the common soldiers had for the sorcerors was well-founded and felt more realistic than is usually the case. The Dream of Seswatha is as creatively used as it is conceived, the skin spies are some of the most disturbing dopplegangers in the history of literature, and unlike many of his secular counterparts, Bakker understands that religion is a genuinely powerful force in human events even if he doesn't quite see any point in it. Bakker's work is perhaps the foremost example of Nietzschean post-moral fantasy, ironically, it is likely to harbor its greatest appeal for those who are unmoved by its transgressive pretensions.
Style: 4 of 5. His unusual affection for umlauts and diacritics aside, Bakker is a competent and effective stylist. While the fog index can be high, he often uses this to good effect in creating a real sense of age and mysticism throughout the three books.
Story: 3 of 5. There is an interesting story of epic scope underneath, but it is so heavily weighed down by the mass of details and the characters that it can occasionally be hard to even remember that it is there. The plot is not exactly one that is going to keep you on the seat of your pants while reading, although it might give you nightmares later.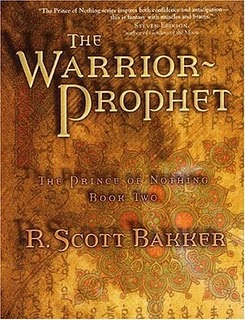 Characters: 1 of 5. The weakest link. Few of Bakker's characters are likable or even particularly interesting from a personal perspective. The fact that the eponymous protagonist is a chameleon doesn't really help, and there is absolutely no way to tell a "good" character from a "bad" one since no one has any discernable moral code by which they could be judged. While none of the major characters are so annoying that the reader is absolutely rooting for them to die, (as in the lamentable case of Robert Jordan's Rand al'Thor), no amount of sanguinary pyrotechnics allows Bakker to play upon the reader's emotions because it's almost impossible to care if any of this sad collection of damaged individuals lives, dies, has fabulous sex, or is raped to death.
Originality: 4 of 5. Both Bakker's world-building and his use of historical and philosophical references are superior, even if occasionally misplaced in the mouths of the characters.
Overall: 6 of 10. Despite what other I would be much more inclined to recommend A Prince of Nothing to Nietzsche enthusiasts or aficionados of torture porn than to fans of A Game of Thrones. There is real potential there, but Bakker will need to significantly alter his philosophy regarding the aesthetic irrelevance of morality if he is to ever realize it.
Text Sample: Achamian turned and saw Nautzera amid a field of smoking husks. Shielded by his Wards, the sorcerer laid the dead king on the ground, whispering words Achamian could not hear but had dreamed innumerable times: "Turn your soul's eye from this world, dear friend … Turn so that your heart might be broken no more."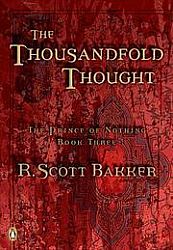 With the force of a toppled tower, the dragon thundered to earth, his descent yanking smoke and ash into towering veils. Portcullis jaws clacked shut. Wings like war-galley sails stretched out. The light of burning corpses shimmered across iridescent scales of black.
"Our Lord," the dragon grated, "hath tasted thy King's passing, and he saith, 'It is done.'"
Nautzera stood before the golden-horned abomination. "Not while I draw breath, Skafra!" he cried. "Never!"
Laughter, like the wheezing of a thousand consumptive men. The Great Dragon reared his bull-chest above the sorcerer, revealing a necklace of steaming human heads.
"Thou art overthrown, sorcerer. Thy tribe hath perished, dashed like a potter's vessel by our fury. The earth is sown with thy nation's blood, and soon thine enemies will compass thee with bent bow and whetted bronze. Wilt thou not repent thy folly? Wilt thou not abase thyself before our Lord?"
"As do you, mighty Skafra? As the exalted Tyrant of Cloud and Mountain abases himself?"
Membranes flickered across the dragon's quicksilver eyes. A blink. "I am not a God."
Nautzera smiled grimly. Seswatha said, "Neither is your lord."
Great stamping limbs and the gnashing of iron teeth. A cry from furnace lungs, as deep as an ocean's moan and as piercing as an infant's shriek.
Uncowed by the dragon's thrashing bulk, Nautzera suddenly turned to Achamian, his face bewildered.
"Who are you?"
"One who shares your dreams …"
For a moment they were like two men drowning, two souls kicking for sharp air … Then darkness. The silent nowhere that housed men's souls.