Today is Deathless Day!
Today is Deathless Day!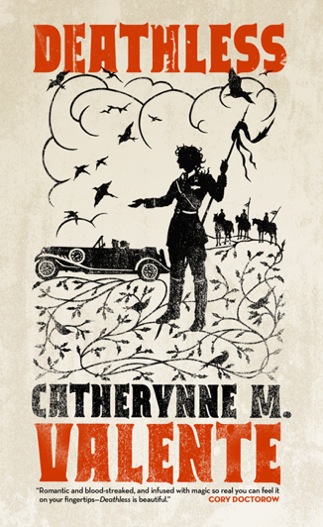 Great tidings of joy! Today Deathless, a novel by Catherynne M. Valente, is available on Amazon, Barnes & Noble, Kindle, Nook and iPad!
The author writes:
In brief terms, it is a retelling of Marya Morevna and Koschei the Deathless set during the Stalinist era and the siege of Leningrad.
Cory Doctorow says:
This is a book that broods but never stoops to cynicism, a book full of dream-logic and eros. Valente is a major talent, and this is some of her best work.
Cat also tells us in her colossal post with the cool links that the audiobook will be available in a few days.
For myself, I can tell you that I read this book in its early draft, and that it's a gut-punch of gorgeous. It's funny, it's sexy, it's dark as midnight in Midwinter Siberia, and it glitters like blood and rubies.
Here is the beautiful YouTube trailer for Deathless.