Inheritance by Christopher Paolini to be Released November 8
Inheritance by Christopher Paolini to be Released November 8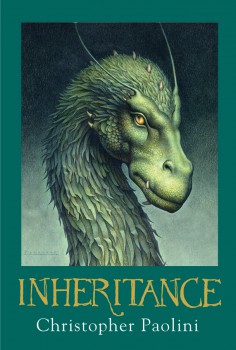 I share a lot of books with my kids. I have two sons, ages 15 and 13, and an 11-year-old daughter. As you can imagine, they have a wide range of tastes. It's uncommon for two to enjoy the same book (or series), and virtually unheard of for all three to agree. They couldn't even agree on Harry Potter – my youngest two enjoyed the books, but my oldest turned up his nose.
The solitary exception is Christopher Paolini's Inheritance Cycle. All three have devoured every book in the series, and all three have been clamoring for more.
For years. The first novel, Eragon, famously completed when when Paolini was only 19, was released in 2002. My oldest, Tim, read it first, and immediately started asking me when the next one was coming out.
Eldest arrived in 2005, and by then Tim's brother Drew had read the first one.  Within two weeks of Eldest's publication date, both of them were asking me to check Amazon.con for news of the third. Brisingr landed in 2008, and by then (of course) my daughter had leaped enthusiastically on the bandwagon.
It's now been almost three years that I've put up with endless questions about the arrival of the fourth book (the most recent was last Saturday. Man, these kids do not give up). So it was with considerable relief that I saw news articles this week about the fourth and final volume, Inheritance, scheduled for release by Knopf Books on November 8, 2011. Thank. God. I thought I was going to be pestered about this book until retirement.
You're on your own for a plot summary, or any further details. I'm already tired of hearing about this book, and I first heard about it yesterday.  Read all about it on Paolini's website Alagaesia.com, or better yet ask a nearby teenager. They're sure to have all the details.