The Desert of Souls Chosen as a Feature Selection of the Science Fiction Book Club
The Desert of Souls Chosen as a Feature Selection of the Science Fiction Book Club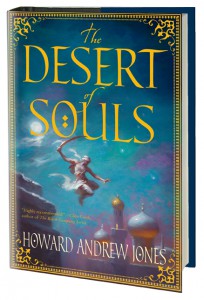 Howard Andrew Jones's first novel  has been chosen as a Feature Selection of The Science Fiction Book Club. Rave reviews continue to accumlate for The Desert of Souls, including this recent article from The Green Man Review:
Barely into the third month of 2011, I'm wondering if I'll read anything else this year as good as The Desert of Souls. In it, Howard Jones proves himself a rare master of the storyteller's art, a talent uncommon even amongst successful novelists. He's written a pure, unapologetic, classically-structured adventure tale. In the vein of the Arabian classic, One Thousand and One Nights, Jones invites us into a fictional ninth-century Baghdad: one of mysterious figures, magical artifacts, frightening djinn, and lost cities damned by God…

Brilliant and immediate characterization, not only for Asim, the narrator, but Dabir, as well, perfect pacing, and a truly intriguing mystery draw the reader deeply into the world of the story. At one point, a story within the story allows Jones to comment on the act of storytelling itself. The novel is polished to a mirror sheen, but it has that something extra that takes a story beyond technical excellence and into the human heart.

Jones is an editor at Black Gate, a Harold Lamb scholar, and has written short stories in the world of his novel for many years. The Desert of Souls doesn't read like a first novel, and perhaps that's why. If you have any interest in historical fiction, fantasy adventure, Robert Howard, Harold Lamb, or the One Thousand and One Nights, you will love this book… Stories that stay with me as this one has don't come around very often.
I've been a member of the Science Fiction Book Club for many years, and enjoy their low-cost editions of popular SF bestsellers.  The Desert of Souls will be featured in their June catalog, mailing out May 20, 2011. You can read the complete Green Man Review of Desert of Souls here.
Congratulations Howard!