Fantasy Magazine Issue 48 Arrives — Including George R. R. Martin, Tanith Lee and Holly Black
Fantasy Magazine Issue 48 Arrives — Including George R. R. Martin, Tanith Lee and Holly Black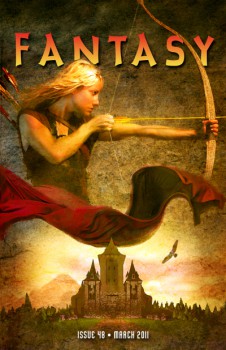 The March 2011 issue (#48) of the excellent Fantasy magazine is now online.
This issue includes original fiction from George R. R. Martin, Tanith Lee, Holly Black, and Genevieve Valentine. It is the first issue assembled by the new editor, John Joseph Adams.
Nonfiction includes author spotlights, and the articles "Three Real Historical Figures Who Embarked Upon the Hero's Journey," by Graeme McMillan, "Five Fantasy Worlds That You Wouldn't Want to Visit," by Te Jefferson & J. Corbeau, "From Story to Screen," by LaShawn Wanak, and an interview with Steven Erikson, conducted by Andrew Bayer.
Each week in March one story and one nonfiction article is posted free online. So far they've posted an editorial by John Joseph Adams, and the HTML and podcast version of Genevieve Valentine's "The Sandal-Bride."
You can buy the complete issue at any time for just $2.99 USD, or subscribe via Weightless Books. The complete Table of Contents is here.
The cover is by Scott Grimando. David Soyka reviewed Fantasy #2 for us back in 2008.