New Treasures: Col Buchanan's Farlander
New Treasures: Col Buchanan's Farlander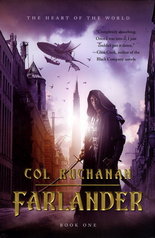 After weeks of late nights working on Black Gate 15 layout, I'm ready to relax in my big green chair with something substantial.  The latest big-budget fantasy from Tor looks like it might just fit the bill.
For fifty years the Holy Empire of Mann, an empire and religion born from a nihilistic urban cult, has been conquering nation after nation. Their leader, Holy Matriarch Sasheen, ruthlessly maintains control through her Diplomats, priests trained as subtle predators. The Mercian Free Ports are the only confederacy yet to fall… For ten years now, the city has been besieged by the Imperial Fourth Army. It is only a matter of time before it falls.

Ash is a member of a sect known as Rōshun, assassins who offer protection through the threat of vendetta… Forced by his ailing health to take on an apprentice, he chooses Nico, a young man living in the besieged city of Bar-Khos, whose own father is long gone, a deserter of his family. At the time, Nico is hungry, desperate, and alone in a city that finds itself teetering on the brink.

When the Holy Matriarch's son murders a woman under the protection of the Rōshun, he forces the sect to seek his life in retribution. As Ash and his young apprentice set out to fulfill the vendetta, their journey takes them into the heart of the conflict between the Empire and the Free Ports — into bloodshed and death.
I don't usually go for books with assassins as main characters.  Maybe I'm just in a dark mood. Maybe the unusual cover intrigues me, with an African American assassin posed before a decaying urban setting ("African American" really doesn't apply in a setting that includes neither Africa nor America, and which was created by an Irishman.  But "black assassin" signifies the wrong thing altogether.) And the airship doesn't hurt.
Farlander is the first novel in The Heart of the World.  It is available in hardcover from Tor for $24.99.