Kicking Off Howard Andrew Jones Month
Kicking Off Howard Andrew Jones Month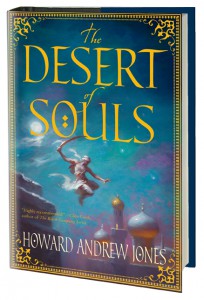 It's the start of Howard Andrew Jones Month here at the Black Gate blog.
You have to do something pretty special to get a whole month, even if you're Managing Editor of Black Gate. But publishing your first two novels — The Desert of Souls and  Plague of Shadows — from two different publishers, not to mention writing an essay for John Scalzi's "Big Idea," holding your first book signing, conducting a sweepstakes, getting picked up by the Science Fiction Book Club, publishing an original online story, being the subject of a multi-part interview, writing the Afterword for Robert E. Howard's Sword Woman, appearing in Black Gate 15 (twice), being a guest blogger, and writing regular columns here at Black Gate, all in the same month… yeah. That will do it.
Over the next few weeks we'll be telling you more about the incredible Howard Andrew Jones, starting with the breathless reviews for his first novel The Desert of Souls, a classic Arabian Nights fantasy and "a page-turner in its purest form" (BookPage), on sale Feb 15. It's the best novel I've read in many years, and you're not going to want to miss it.