Morlock Returns
Morlock Returns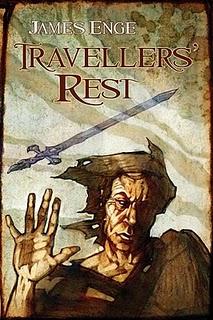 If you've been missing Morlock, you're in luck, because he's back.
James Enge's iconic character has been getting a lot of well-deserved attention lately. If you missed out on the news, Enge's first novel, Blood of Ambrose (starring Morlock) was nominated for a World Fantasy Award. His third novel, The Wolf Age (starring Morlock) recently received a starred review in Publisher's Weekly.
Now it turns out that The Wolf Age is Pyr's one-hundredth title, an event certainly worth celebrating, and what better way to celebrate than with a new Morlock novelette?
I'll let the official Pyr release from Jill Maxick take over from here:
In honor of this burgeoning Morlock fan base, and to commemorate The Wolf Age's status as Pyr's one-hundredth title, Pyr is issuing a free, exclusive, ePub novelette called "Travellers' Rest." Featuring a cover by artist Chuck Lukacs, "Travellers' Rest" is an 8,500 word original novelette, written for Pyr, which takes place before the events of Blood of Ambrose. It is available on the Pyr website, as a free download in ePub format and will also be available via Kindle. (Two previously published Morlock short stories that take place many decades after the events of The Wolf Age — "A Book of Silences" and "Fire and Sleet" — are available on the Sample Chapters section of the Pyr website.)
For those of you without an e-reader, the HTML version is here.
What are you waiting for?