"The Word of Azrael" Selected for The Year's Best Science Fiction & Fantasy
"The Word of Azrael" Selected for The Year's Best Science Fiction & Fantasy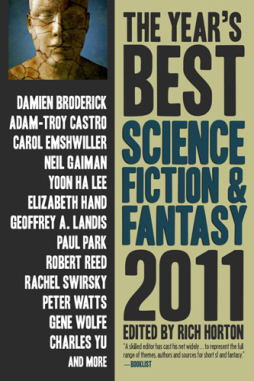 Matthew David Surridge's novellete "The Word of Azrael" has been selected for The Year's Best Science Fiction & Fantasy 2011 Edition, edited by Rich Horton.
Congratulations, Matthew!  "The Word of Azrael" has been praised in many places since it appeared in Black Gate 14. Here's what Rich said in his Locus magazine review in the August issue:
Even better is Matthew [David] Surridge's "The Word of Azrael." It concerns Isrohim Vey, who sees the Angel of Death on a battlefield and as a result is spared — more a curse than a blessing — to search again for the Angel. His search almost takes the form of a catalog of sword & sorcery tropes, his many adventures told briefly but with style and an ironic edge. Surridge both celebrates and winks at the genre. It's very entertaining, clever, and even thought-provoking.
Lois Tilton at Locus Online said:
Isrohim Vey is driven to seek out Azrael and understand the secret of his smile. Upon which quest he meets with enough adventures to fill many books. Here might well be the ultimate sword and sorcery, in that it both epitomizes and deconstructs the form with a subtle irony…The author is compressing all possible adventures into one, and eventually the threads begin to come together. The tale illustrates how much of what we recognize as S&S lies in certain tropes and themes, and in particular the tone of its prose. RECOMMENDED.
And in her SF Site review, Sherwood Smith said:
When I read that this tale was "initially inspired by the old Conan paperbacks which preceded each story with a snippet of Conan's bio," I groaned…. Was I wrong! Within two pages, Surridge's deft, ironic voice had disarmed me. We begin on a battlefield where seven kings and their armies died. The warrior Isrohim Vey wakens alone, except for the Angel of Death… What follows seems to be a series of iceberg-tip stories, that is, the climactic moments of what could have been longer tales. Increasingly intriguing tales. The reader begins to perceive patterns weaving them together into a tapestry of solid gold.
Matthew shares the Table of Contents with other Black Gate contributors, including "Braiding the Ghosts" by C.S.E. Cooney (from Mike Allen's Clockwork Phoenix) and "The Green Book" by Amal El-Mohtar, from Apex Magazine. Congratulations, Claire and Amal!
The Year's Best Science Fiction & Fantasy is published by Prime Books; an on-sale date for the 2011 edition has not been announced.  This is the third volume (we covered the 2009 edition here); the complete Table of Contents is here.
You can purchase Black Gate 14, containing "The Word of Azrael" and over 380 pages of the best in modern fantasy, for $15.95 plus shipping at our Subscription page.