Having a Medieval Solstice
Having a Medieval Solstice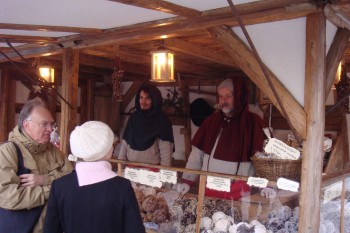 I hadn't planned on doing a post today, since foreign travel makes it difficult to keep up a decent post aside from writing, "Hey, I'm in Bavaria with my sister and my nephew, can't toss you anything today."
However . . . going to a medieval-themed Christmas Market . . . well, let's just say it's far better than any attempt at something remotely medieval or Renaissance that I've seen in North America, and I feel like telling you briefly about it. This is my vision of a grand Winter Solstice celebration: hooded peasant outfits, burning hot spiced wine, a full pig on a spit, and halberds for sale. For children! (Für kinder!)
Christmas Markets are a huge German tradition. Every square in Munich and most wide avenues are packed with booths selling trinkets, ornaments, hats, gloves, and wooden carvings for your grandmother's house. These markets are known to have existed since at least 1410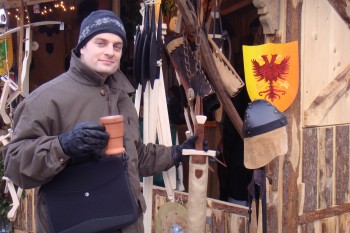 (which is the first recorded mention of a "St. Nicholas Fair"). The Mittelaltermarkt München is a five-year-old event meant to imagine what these markets might have looked like during this earliest time period in a very old city. It takes place in Wittelsbacherplatz, a square around a statue of Ludwig I, near to the Residenz and Odeonsplatz. (Have you seen the famous photo of a young Adolf Hitler among an enormous crowd cheering the opening of World War I? That's Odeonsplatz.)
Admittedly, this wouldn't be authentically medieval unless rotting garbage were strewn haphazardly around and more than half the workers had rancid skin-diseases. But it's better than anything Disney might come up with, and in the chilly Bavarian winter with a mug of Glühwein (a traditional hot spiced wine-and-rum concoction) in my hand, I found it one of the best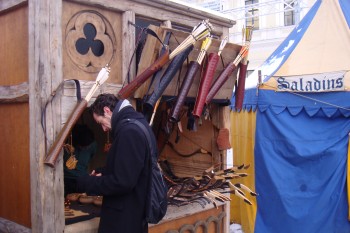 transporters to a medieval mindset I've encountered. Plus, I was already extremely tired of the other cutesy Christmas Markets, and Mittelaltermarkt is completely devoid of anything cute. Perhaps wooden swords and children's suits of armor are cute to some people, but I consider such things "practical." Get your children thinking about medieval fantasy as soon as possible, that's my philosophy.
Along with Glühwein, the market also serves a stronger drink that is set on fire before you consume it: Feuerzangenbowle. The jack it's served in is almost as elaborate as the combination of tastes mixed into it.
Unfortunately, the traditional German Middle Ages music performances are only on weekends, so the wooden stage sat empty except for tourists sitting down to finish their third mug of Feuerzangenbowle.
This is what my holiday season in Los Angeles has always been missing . . . helmets and crossbows for sale!