Short Fiction Beat: Interzone #225
Short Fiction Beat: Interzone #225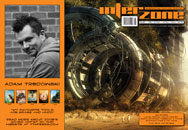 In today's mail arrived the December 2009 Interzone #225, containing these stories:
"Here We Are, Falling Through Shadows" by Jason Sanford
"By Starlight" by Rebecca J. Payne (a debut)
"The Killing Streets" by Colin Harvey
"Funny Pages" by Lavie Tidhar
"Bone Island" by Shannon Page & Jay Lake

As well as the usual assortment of columns and reviews.
Also in the mail is a slew of short story collections, including Interfictions 2, Paper Cities, Kurt Vonnegut's posthumous Look at the Birdie, Conjunctions: 52 Betwixt and Between, and McSweeney's Thirty Two.
As soon as I've read them, I'll let you know. Just don't expect anything in time for your Christmas shopping decisions.