Conjunctions: Son of New Wave Fabulism
Conjunctions: Son of New Wave Fabulism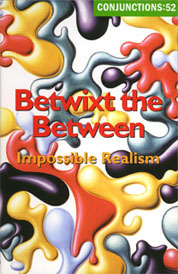 The spring issue of  Conjunctions, the literary magazine of Bard College, is called "Between and Betwixt: Impossible Realism," described as "postfantasy fictions that begin with the premise that the unfamiliar or liminal really constitutes a solid ground on which to walk."  This is a follow-up to its "New Wave Fabulist" issue back in 2003, which I reviewed for Locus.
I like the title of this new edition (makes more sense to me than new wavey fabulous), though I'm not quite sure what "postfantasy" means, other than that because it is published by academia, "post"-things are kind of popular, as are terms like "liminal." You can see the table of contents here, with links to some stories available on-line by Elizabeth Hand, Ben Marcus, Jonathan Carroll and Jeff VanderMeer.
Something I'm putting on my reading list.